Corporate Team
"The achievements of an organization are the results of the combined effort of each individual."
– Vince Lombardi
Strong Support
Illumination FL is headquartered at 2413 Quantum Blvd., Boynton Beach, FL.
Our Corporate Team is responsible for supporting the Design, Installation and Maintenance Teams in all of their various functions with the very best customer service, communications, training materials, inventory management, billing and so much more. This is a dynamic team that is called on to perform various business and office related tasks. If you have strong interpersonal skills and desire to offer the highest level of customer service to our teams and our customers. Keep reading and if you think you would be a good fit send us your resume so we can consider with you.
Operations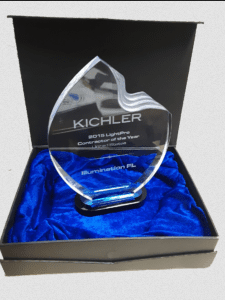 Our office team works to ensure that our neighbors who express interest in landscape lighting have an opportunity to meet with one of our Design and Sales Professionals for a complementary design consultation and project estimate. As the project gets going, everything from scheduling to inventory for the design to signing our new client up for one of our high value maintenance plans, is the responsibility of the Office Team. If you are highly organized, business administration is your forte' and project management is of interest to you then you might discover a great career with Illumination FL in this department.
Business Development
The Business Development department works diligently to make sure that the Illumination FL brand is increasingly well known and well reputed. Business Development designs and manages the marketing funnel for the organization. This department is responsible for generating interest and directing folks who want LED Landscape Lighting to points of action where they can begin a conversation with our Design and Sales Team.
In addition, Business Development engages in networking relationships with builders, landscape architects, landscapers and various other industry professionals in an effort to make sure that the communities we serve are getting the best products and services for their homes and businesses available, from reputable contractors.
If you are passionate about relationships, storytelling through marketing, building a solid brand and a corporate culture and reputation that has substance, then consider joining the Business Development Department of Illumination FL!
Warehouse and Fleet Services
Our Warehouse and Fleet Services department makes sure that our Installation Team and Maintenance Team has the fixtures and other materials they need, when they need them to provide our customers prompt and excellent customer service. This department is responsible for staging product for installations, delivering requested products to teams that are in the field, and managing inventory levels. In addition, these and various other warehouse responsibilities are fulfilled by those working in this department.
Fleet vehicles are acquired, serviced and maintained through the Warehouse and Fleet Services Department to make sure that our teams have vehicles that will get them safely to and from job sites. If you are good at organizing and detail oriented and you're looking for an engaging career in the field of Landscape Lighting, consider joining the Warehouse and Fleet Services department at Illumination FL.
Illumination FL provides equal employment opportunities to all employees and applicants for employment and prohibits discrimination and harassment of any type without regard to race, color, religion, age, sex, national origin, disability status, genetics, protected veteran status, or any other characteristic protected by federal, state or local laws.
This policy applies to all terms and conditions of employment, including recruiting, hiring, placement, promotion, termination, layoff, recall, transfer, leaves of absence, compensation and training.
No interpretation or implementation of these policies will in any way violate rights guaranteed by the United States Constitution such as freedom of speech, freedom of religion or any other rights afforded to United States Citizens.