Landscape Lighting Design Services for Palm Beach County, FL
Landscape Lighting Design is an art form. It has been likened to "painting with light." Illumination FL has been designing and installing custom LED Landscape Lighting Systems in South Florida since 2003. Our landscape lighting design process includes connecting with our prospective clients to discover your passion and the types of ways you presently enjoy your property. From there, we consider your present landscaping and architectural features. At this point, we may recommend one of our approved landscape or hardscape partners to help bring your vision to life. Once the scope of the project is in right perspective we will present a professionally designed lighting plan for your review and approval. Once you approve the landscape lighting design plan and submit the initial deposit we are ready to schedule your installation.
Trends In Landscape Lighting Design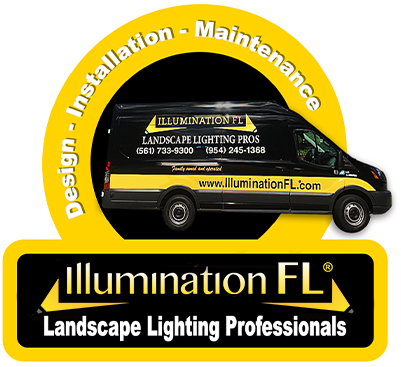 Landscape Lighting has radically changed over the last 16 years or so that Illumination FL has been in business. Pricing on LED lighting has drastically been reduced. The number and quality of fixtures available have greatly increased. The skill level and professionalism that we have developed in this business has also increased with experience and education. Illumination FL has been leading the way in the area of design by focusing on LED landscape lighting as our core business and competancy.
We are seeing an increase in the value people place on their quality time. Time spent with family and friends, enjoying dinner parties or conversations over coffee. In Florida, this often happens in outdoor living spaces. Our designers are expert in bringing in just the proper amount of light to play up the architectural features, bring out the natural beauty of the tropical landscaping and increase our customers feelings of safety and security by lighting up the dark areas of the property in a way that also adds aesthetic value.
Have more questions about LED landscape lightign trends? Check out our blog or give us a call to schedule a time to meet with one of our professional design experts.
Scenes and Transitions in Landscape Lighting Design
Some of the considerations with regard to designing the most intriguing lighting plan for your property include the development of scenes and transitions. The development of scenes is a matter of considering where you spend your time outdoors and using light to make those spaces significantly more enjoyable and visually stimulating. Transitions have to do with helping you move from one scene, or focal point, to the next.
Is there a garden with a seating area? Perhaps you have a pool with some special art installations? Maybe when you travel down the relatively dark left side of your house there is a nice cluster of robelini palms with a podocarpus backdrop and some iris or azaleas up front welcoming you into the back yard?
We want to help you tastefully think through and artfully accentuate these focal points and then make it visually (and physically) easier to transition into these spaces or scenes. High quality LED spotlights with the right lumin output and temperature coupled with a few pathlights splashing light along your walk-ways can go a long way in transforming how you enjoy the various spaces where you spend time on your land.
Connect with a Design Consultant