Outdoor Lighting and Design
Residential LED Lighting
Residential LED Lighting is our forte. Our homes and our vacation home are some of the most significant investments we will make in our lifetime. Living in Florida means that a significant portion of our lifestyle is centered around enjoying our outdoor spaces. Droves of people come to Florida to settle in for retirement or simply to enjoy our mild and gracious winters. We are here to help you get the most from your Florida living.
One of the most impactful improvements you can make to a well-designed home with quality landscaping is a LED Landscape Lighting System. Why? The curb appeal that we invest so much to obtain, really only gets to be enjoyed from dawn to dusk. Consider this before and after picture of this gorgeous home we worked on:
After / Before
See what we mean? The difference is astounding, and these customers were thrilled. That is not all though what about those walkways on the side of the house where utility comes in to play. Where you take the garbage out at night or walk through to get from the garage to the pool in the evening? We consider how you live and play on your property so that all the details are worked together for a better living experience. While we are talking about your pool, what about your recreation areas? From children's gymnasiums and tree forts, to spaces for the hottest cocktail parties, your Illumination FL LED Landscape Lighting System can take it to a whole new level.
Landscape Lighting Design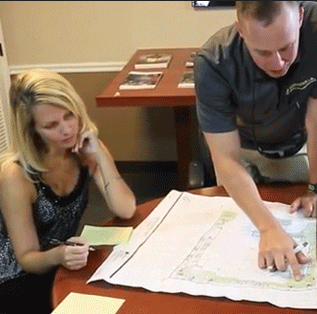 Landscape Lighting Design has changed drastically over the years. Today, there are more efficient and creative ways to illuminate architecture and foliage. It really is a form of art that is coming into its own. At Illumination FL, we are used to working in tropical climates and that helps to direct our decision making. The outdoor lighting fixtures that we select for our designs are made from premium materials, like brass and bronze, able to endure the harshest elements Florida has to offer.
The design process can include the use of fixtures set to varying levels of brightness to achieve the desired effect or atmosphere. We take into consideration focal points, considering how the eye moves from one space to another. Each light is expertly aimed to reveal the most pleasing aesthetic aspects of the landscape and hardscape.
As we move through the initial design phase together with you, our conversations are so important. We listen carefully to your needs for security and how you want to experience your outdoor living spaces. The way you utilize your outdoor spaces and what kind of new possibilities you envision with the addition of you new Illumination FL Landscape Lighting are all considered.
LED Lighting Specialists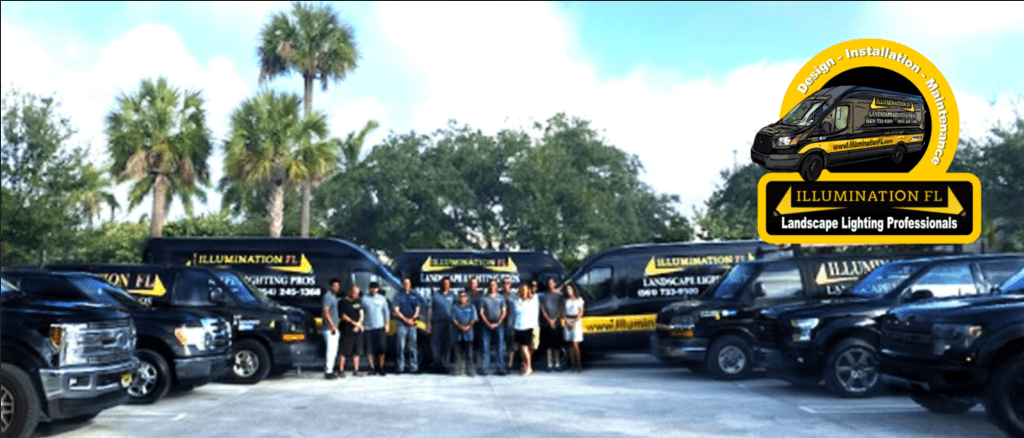 LED (Light Emitting Diode) Lighting Specialists is a designation we take seriously. Illumination FL has been serving South Florida since 2003. During that time, we have seen many changes in the industry. Not least if which, is the popularity of LED lighting. When new technologies arrive on the scene, prices start out pretty high. It takes a while for people to adjust to and get comfortable with the new technology as well. Thankfully, we got on the bandwagon with LED and stayed the course. From the early days till now, the pricing on LED lamps has come down significantly. Now you can enjoy lower initial costs as well as eco-friendly, money-saving efficiency with regard to your electric bill since LED uses a fraction of the power as traditional halogen alternatives.
As South Florida's trusted, local LED landscape lighting professionals, we look to leverage our experience to bring you a premium design experience along with a trustworthy, professional installation and system maintenance.
Patio Lighting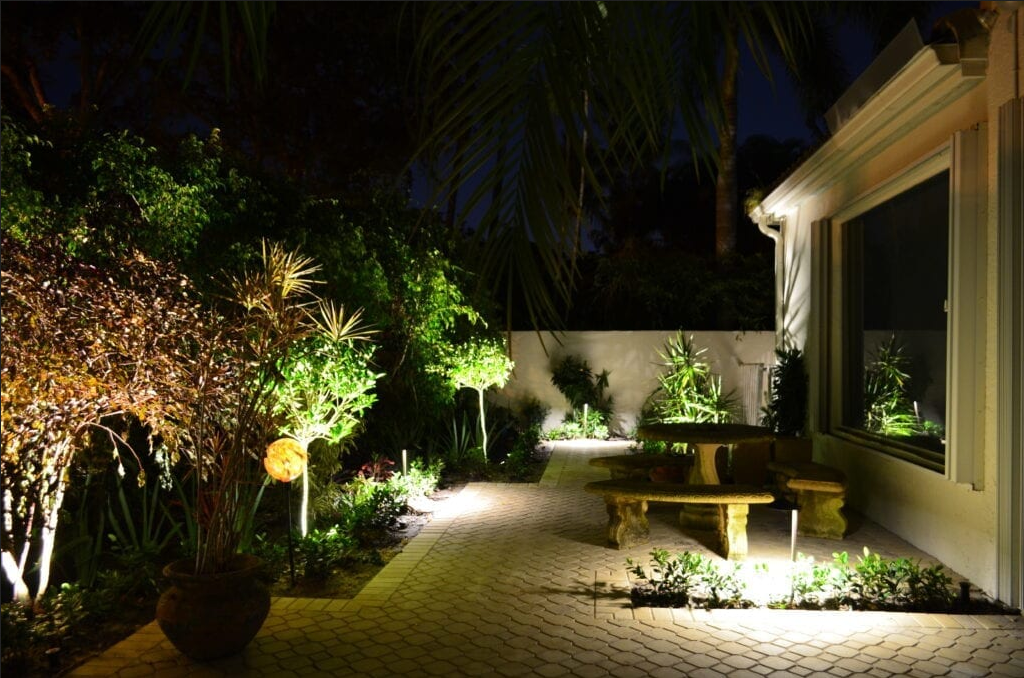 Whether you have a newly constructed dock overlooking the Intracoastal or a cozy patio under the cover of your roof and looking out into a treasured garden, we can design a plan that will add just the right amount of light to enhance you atmosphere. LED technology is safe and utilizes low voltage electric systems that in many ways eliminate the hazards associated with higher voltage systems.
Our design for patios can include flush-mounted well lights to give unobtrusive lucidity to a space. Perhaps a wooden staircase leading to a cozy seating area could benefit from some soft lighting glowing from under each step for safety an to lead you into the sitting area. We've seen and been included in the creation of some amazing spaces for our neighbors here in South Florida and we you to benefit from that experience.
Tiki Lighting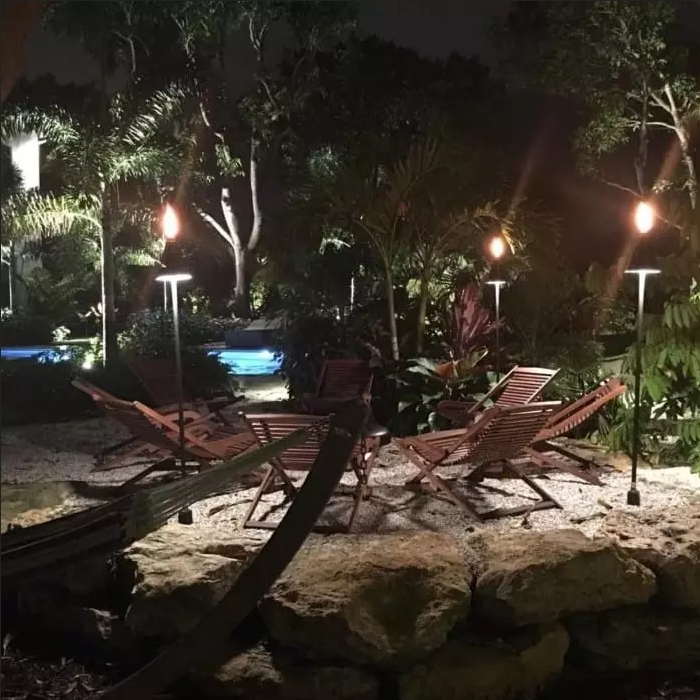 Tiki lighting adds a fun, whimsical feel to most tropical landscapes. The refillable citronella top lamps provide a classic, almost ancient Polynesian flicker of light. Yet, the modern LED technology casts a comfortable glow upon the various grasses, bushes and flowering plants utilized in many South Florida landscape design plans.
So, if you love entertaining around the pool, or have an architectural theme to your home that would benefit from some island flavor, we can design a system that plays up those themes utilizing our Tiki lighting fixtures. Also, if you have installed a tiki hut as cover for an outdoor kitchen or bar, we have many options to make that island swag truly shine.
Commercial LED Lighting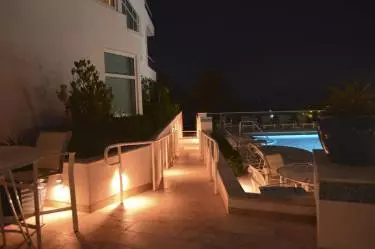 Commercial LED Lighting is a rapidly growing area of the LED Landscape Lighting business in South Florida. Homeowners associations, college campuses as well as car dealerships and other businesses with significant investment in landscaping and hardscapes are realizing the safety benefits of a quality LED Landscape Lighting System in their common areas. This is not to mention the visual benefits that make your commercial property stand out in the evening hours.
We will work closely with you through the design and bidding process making sure that all community requirements and standards are met or exceeded. You can expect the professional installation that our company is known for (just check out our customer reviews by clicking here). Finally, we have several scalable maintenance programs to keep your LED Landscape Lighting System in top shape through the years.
Professional Design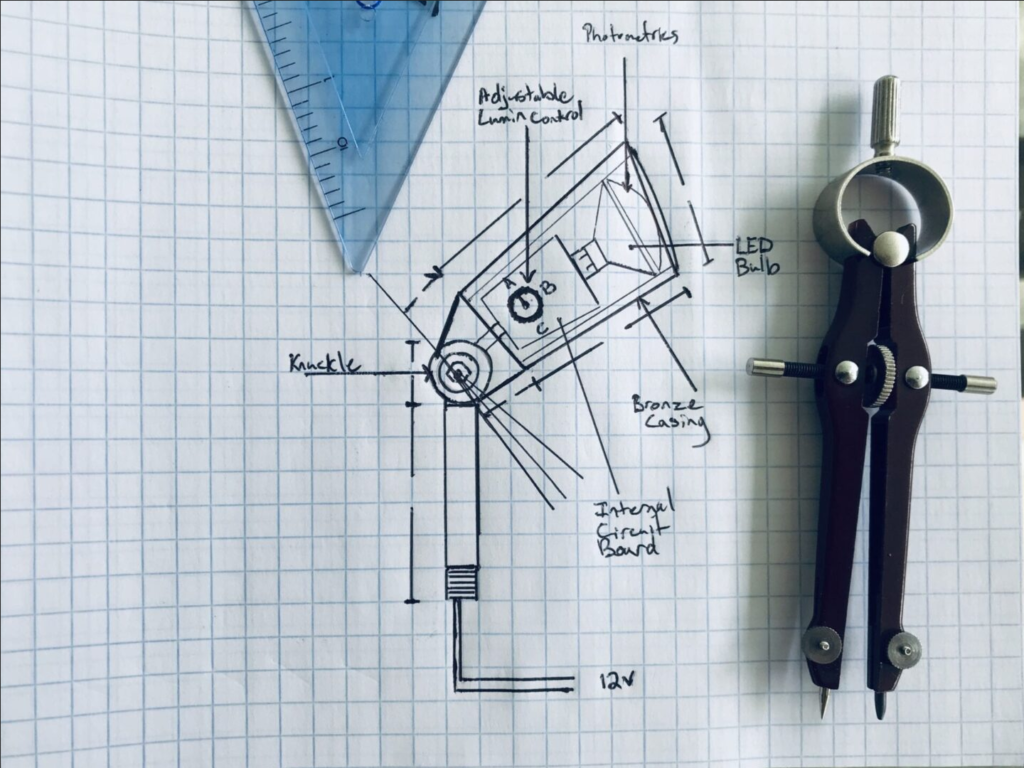 The professional design portion of what we do at Illumination FL is one of the most overlooked values we offer. So, we are glad you are reading this. LED Landscape Lighting design moves into the arena of 'professional' when you start to consider the level of experience our design team has.
We've been developing systems in this demographic for almost twenty years now. The advanced training that our team has undergone working with leading LED lighting manufacturers like Kichler contributes to our industry knowledge and keeps us on the bleeding edge of technological innovation.
Finally, by working with an ever-growing network of landscape architects and designers we help one another stay up on all the recent products and design trends. It doesn't stop there though, we are able to work hand in hand with our professional network on the development of your living spaces to ensure timely results.
Café Lighting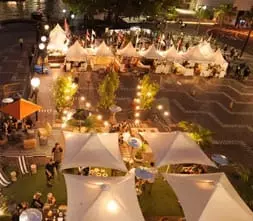 Café Lights have added beauty and ambience to some of the finest Italian cafés for years. The increased affordability and durability of LED lighting is making a big impact in the residential market though. Café Lighting is being utilized in pool and patio design, as well as special events. There are a range of color options for holidays or a person can simply and easily transform the atmosphere of a garden seating area for a romantic evening picnic.
Illumination FL works with business and homeowners alike to help develop and bring to fruition a vision that will meet the trendy and yet classic design tastes of the most savvy coffee house connoisseur.
Underwater Lighting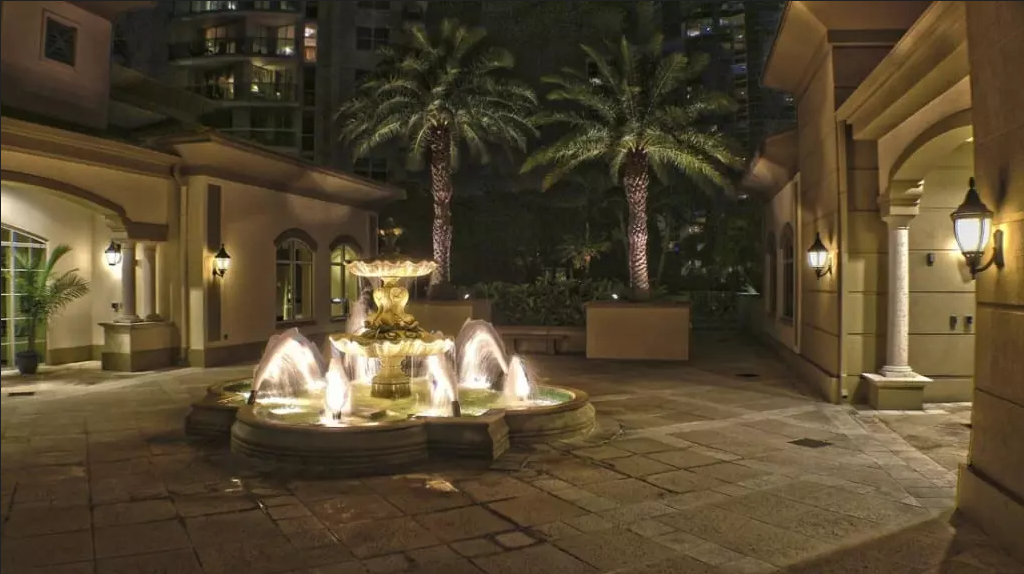 Underwater LED Lighting is one of the most awe-inspiring additions a person can make to a water feature. Not to mention, and this is a little selfish, working with the lighting design aspects of water features such as fountains and koi ponds are some of the coolest, most challenging projects for us.
Completely rewarding.
The technology utilized in underwater LED lighting is amazing and the durability of the fixtures we utilize is nothing shy of an engineering miracle. The kinds of water features that can benefit from LED lighting, well, the limits of our imaginations haven't been reached yet, you should give it some thought. We can recommend some very talented designers that specialize in water features, just give us a call and we can work together to add a serious WOW! factor to your outdoor living space.
Outdoor Kitchen Area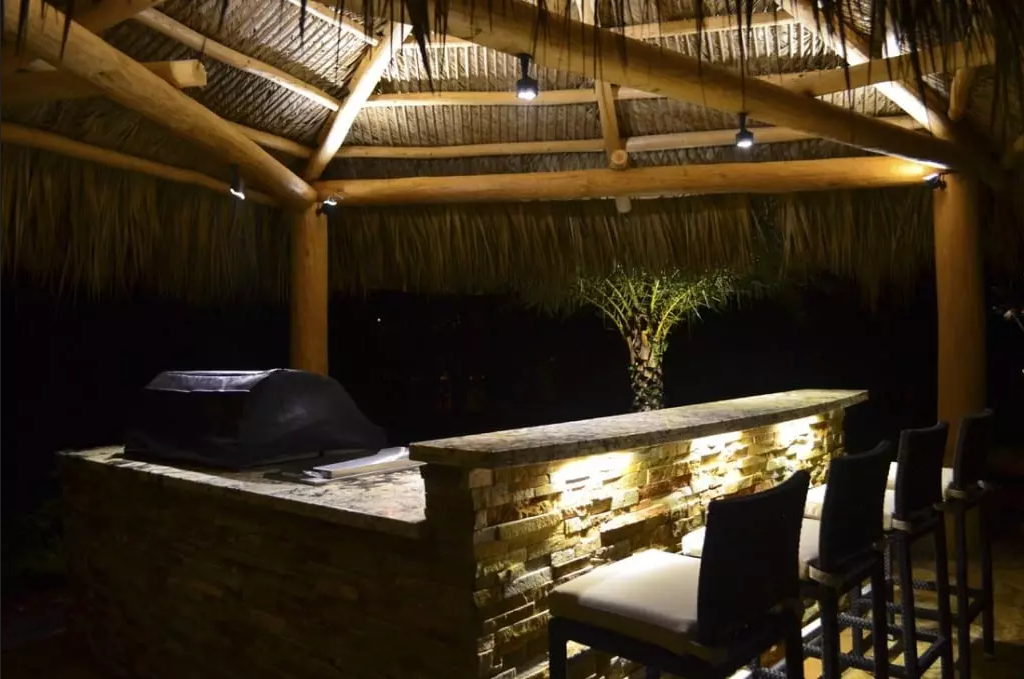 In South Florida, outdoor kitchens are becoming a must-have for almost all luxury properties. This is a high end, high traffic environment where life happens. Labor Day BBQ's and summer pool parties, Florida wedding receptions and cool, romantic waterside dinners watching the sunset on the Intracoastal waterway: This is luxurious Florida living at its most pristine.
So how does Illumination FL LED Landscape Lighting fit into this picture? We bring a subtle, but noticeable ambience that can only come from a well thought out LED lighting design plan. All of those gorgeous royal palm trees you had planted will glow with a gentle radiance while the grandkids splash in the pool. The modern art piece you had commissioned and installed by the pool for your wife's birthday, glistening in the evening hours while you turn that fresh-caught salmon with a big smile and a satisfied mind. If working with water features excites our taste for creativity, making your outdoor kitchen area into an entertaining oasis fills us will the joy and remembrance of family and friends.
In-Line Lighting
In-Line Lighting is one of the freshest expressions of LED lighting on the scene. This ain't your granddad's rope lights. From continuous line LED lighting to more classic strip LED lighting, this is a low-profile alternative to more traditional path lights. The flexible nature and water-resistance of the fixture allows installation in much tighter spaces and, from a design perspective, can give a much cleaner, modern feel to an outdoor space.
Recent architectural leanings in South Florida have tended towards a sleeker design, with very clean lines and crisp fresh accents using turf instead of South Florida's staple ground cover, St. Augustine sod. The best thing to do is sit down with one of our designer professionals and get your ideas on paper, then let us come up with the perfect LED Landscape Lighting System for your property.
Deck Lighting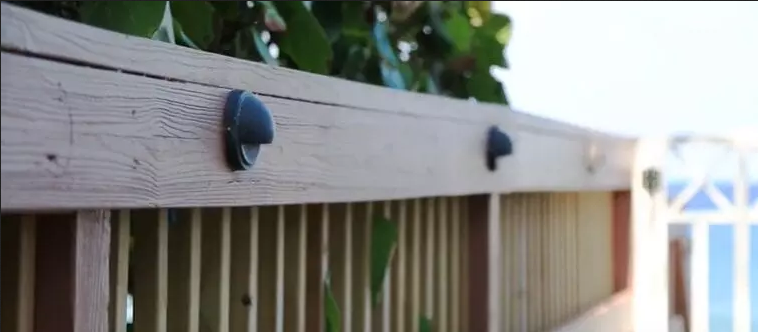 Deck lighting is a wonderful way to add a luxurious atmosphere to your waterfront living. At Illumination FL we work with a lot of clients that have waterfront homes and businesses. Choosing the right fixtures in these settings is very important. If you are ocean front, you need to consider a sea turtle-friendly option. Whether you are contending with salt water or freshwater, the durability of the fixture needs to be considered. The best thing is that you don't have to worry about any of this when you bring in the professionals! Our landscape lighting designers while consider all the variables and present a well thought out lighting plan that is perfect for your deck.