Landscape Lighting Jupiter
Your Local Landscape Lighting Professionals
Landscape Lighting has been sparking the interest of residents of Jupiter, FL recently like never before. At Illumination FL we provide a solution for all of your landscape lighting needs with professional design, installation and maintenance services. Not only is LED lighting an eco-friendly alternative to creating a spectacular visual experience, but it also enhances the comfort level of our customers as a security lighting option. Of course, there are many reasons to choose Illumination FL as your trusted LED landscape lighting contractor…here are a few key points:
We specialize in LED landscape lighting as our primary business
Our Design Professionals will present you with a well thought out design plan, free of charge
We listen to your needs and combine them with our expert advice to offer a great solution
The fixtures we install offer industry leading quality and warranties
Our installation team is highly trained and we complete the job on time
The Work of Illumination FL – Jupiter, FL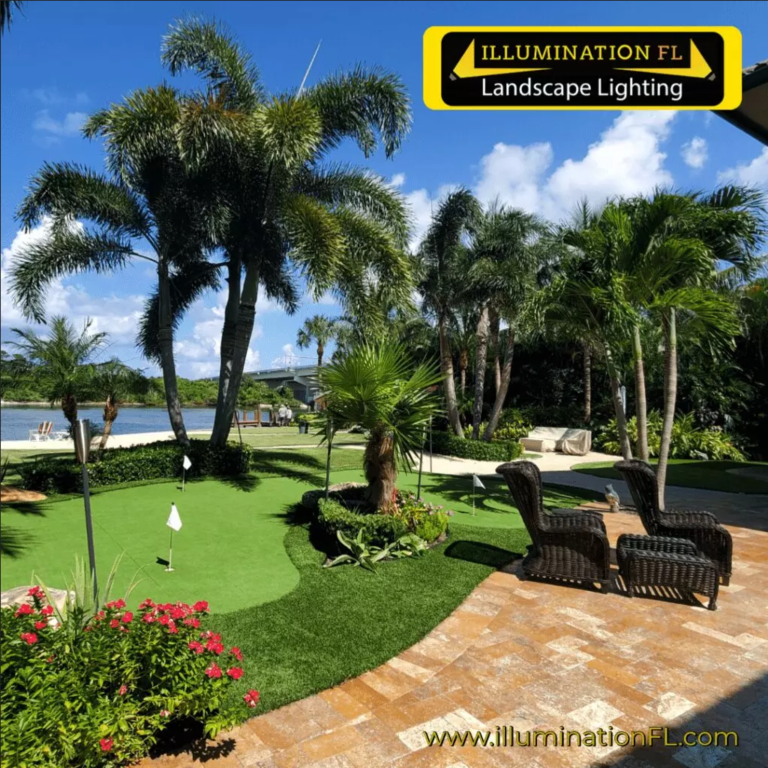 Schedule Your On-Site Design Consultation Now
Illumination FL is pleased to have been serving Jupiter home and business owners for more than 16 years. We are a family owned business that has found working closely with residents of Jupiter to be fun and rewarding. If you want to learn more about landscape lighting visit our online educational page. The truth is, we love working with the nautical feel of the homes on the intracoastal waterways and beach front that are such an important sanctuary for many of our Jupiter neighbors. The unique ecosystem, architecture and tropical foliage offers a sophisticated yet relaxed canvas for us to work with. That is a common thread that extends to many of the inland properties we have had the privilege of working with as well.
All said and done, Jupiter is a community that we are happy to be a part of. With its Roger Dean Stadium drawing crowds for hot dogs and baseball, to the awe inspiring views and history to be found at the Jupiter Inlet Lighthouse and Museum. Jupiter, FL is a great place to enjoy the best of outdoor Florida living and we like doing our part to keep it that way.
Having a rich eco-tourism industry, residents have discovered that by utilizing Illumination FL LED eco-friendly technology they can reduce their carbon footprint when compared to traditional landscape lighting. We can also create artistically lit scenes for you on your own property that can make arriving home more welcoming and opening your outside living spaces for entertaining whimsical or elegant, depending on your tastes.
Connect with us today and we would be happy to schedule a design consultation and estimate free of charge.
Landscape Lighting Design
Award winning landscape lighting design is what we do! Illumination FL has been designing and installing custom LED Landscape Lighting Systems in Jupiter, Florida since 2003. Our design process includes connecting with our prospective clients like you to discover your vision and the types of ways you presently enjoy your property. From there, we consider your landscaping and architectural features. We may recommend one of our approved landscape or hardscape partners to help bring your vision to life. When the project is in right perspective we will present a professionally designed lighting plan for your review and approval. Once you approve the plan and submit the initial deposit we are ready to schedule your installation.
Landscape Lighting Installation
We are known for our professional landscape lighting installation. Your Installation Team will be comprised of your design professional who will be your main point of contact through the process, an appropriate number of our trained Installation Technicians to complete the job in the scheduled amount of time, and our Office Support group that will assist you with things like billing and setting up an appropriate maintenance program to keep your Illumination FL LED Landscape Lighting System in top notch shape for years to come.
Landscape Lighting Maintenance
High value landscape lighting maintenance packages are available. Your home is one of your most significant investments and when it comes to getting the most from your outdoor Florida living, it's the lighting that is going to take your experience to the next level. A properly maintained LED Landscape Lighting System will make your home's curb appeal shine and the evening atmosphere of your backyard leisure spaces and creative architecture stand out in their best light. We have maintenance packages designed to fit your budget and keep your system looking its best…even in the presence of the harshest of tropical elements like pollen, lime and calcium build-up.