7 Ways Garden Lighting Inspires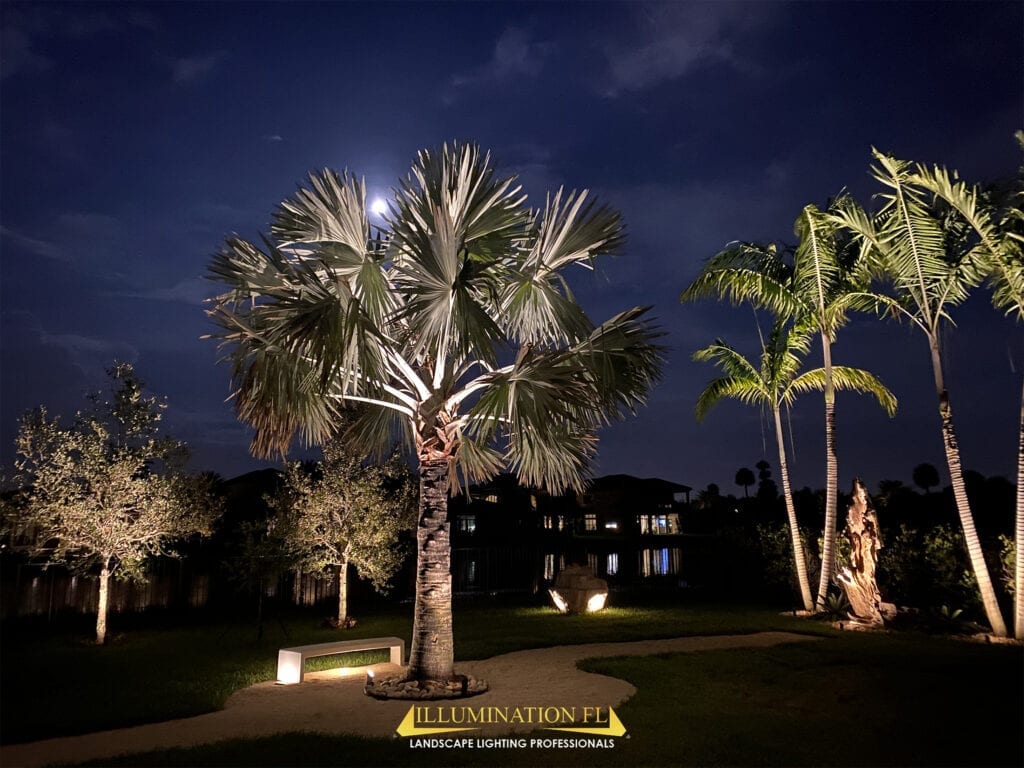 Written by Justin Gaynor
In this blog we are going to be looking at seven ways that garden lighting can add fresh inspiration to your life. Walking through a garden is incredibly inspiring. All the many species of plants with the birds and bees that find sanctuary. The way the hibiscus blooms and the scent of jasmine. The problem is that there are a lot of folks that really only enjoy their gardens during the day, and even then sometimes only on the weekends. It is so nice to be able to stop and smell the flowers more often. That is where an Illumination FL Landscape Lighting System comes in.
Garden Lighting, Enjoy More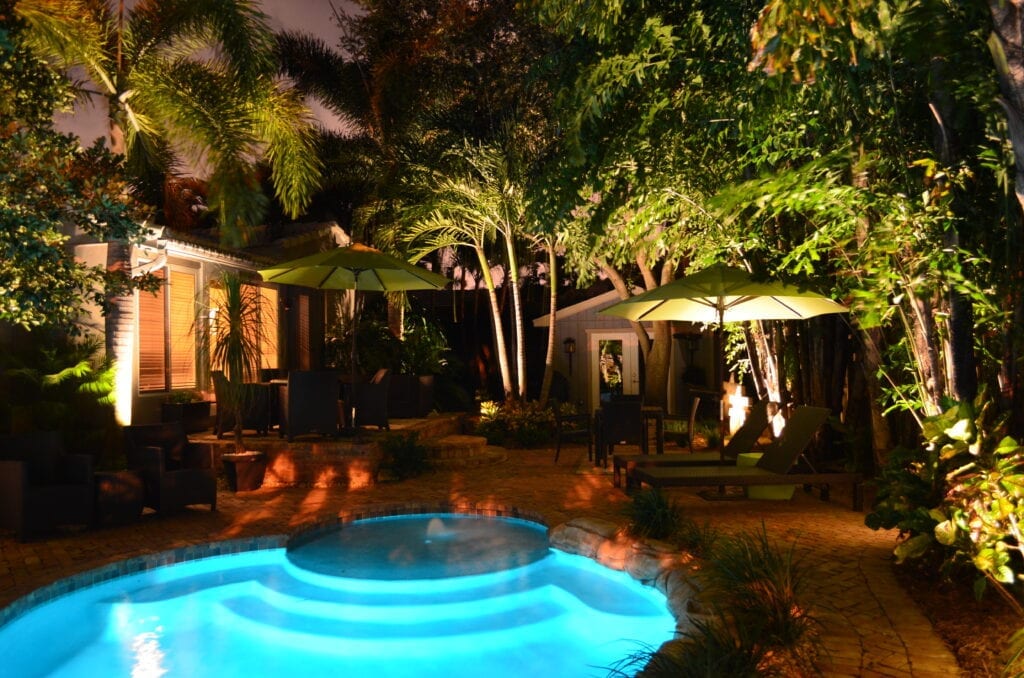 Garden lighting inspires you to enjoy more of your home, more often. Once the sun goes down (which is much earlier with the recent time change) we tend to think that it's "indoor time". That does not have to be the case, though. Sitting in the garden, under the moon and stars with a cup of cafe' con leche after a nice meal is just as much for Tuesdays as it is for Saturdays. At least, it can be, if you want to enjoy your garden more. With good lighting that is energy efficient, you can enjoy more of a resort-like atmosphere any time, and at a reasonable price.
Accent Lights in the Garden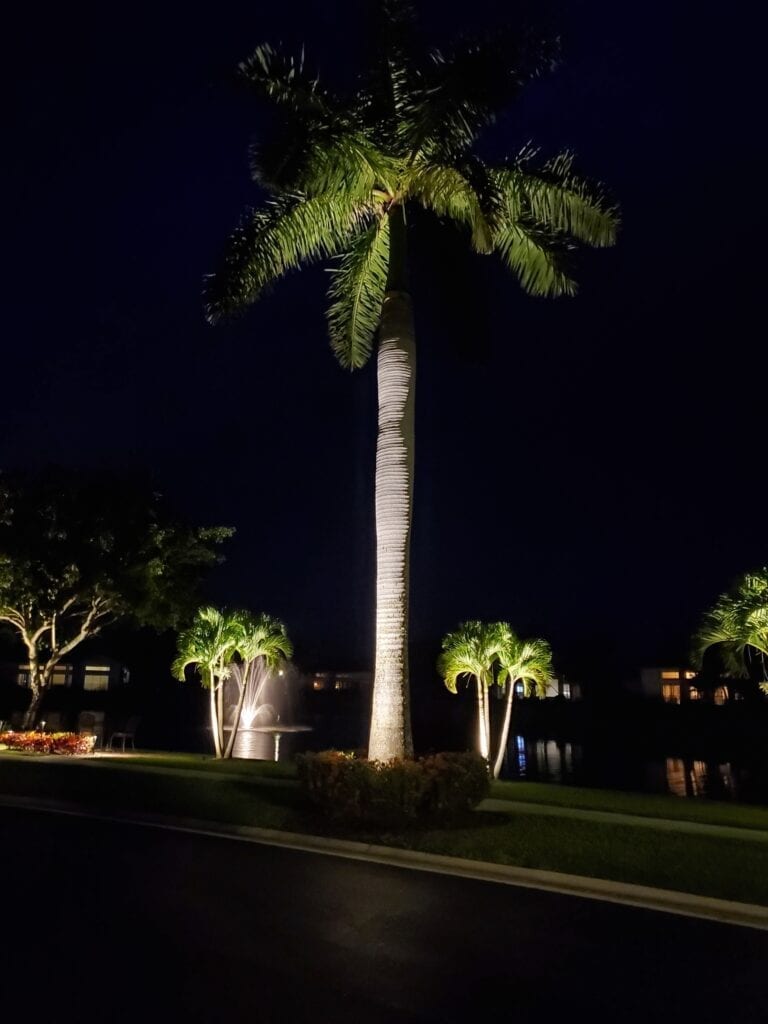 Garden lighting inspires awe and wonder. Accent lights offer a direct beam of light that can range in temperature and beam width. Accent lights help to highlight specific architectural features, trees, or art installations. With accent lights wisely placed within your garden, you will be able to enjoy more of the focal points within your garden. Such eye catching beauty will surely inspire you and guests.
Wash Lights for the Garden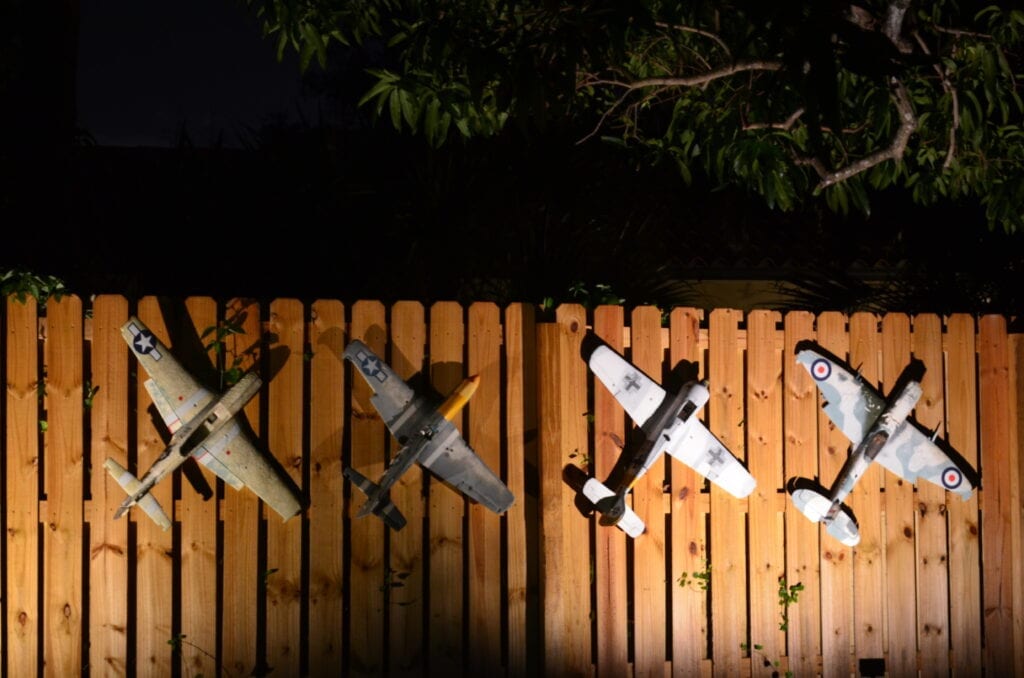 Garden lighting inspires expansion and openness. Wash lights bring to life larger areas of your garden like ficus hedges or large, complex banyan trees. With wash lights directed at hedges that line the outer perimeter of your garden, it creates an optical illusion of greater depth and more space. To create a resort look, it requires the various types of LED light fixtures, working together to get that truly inspiring space.
Garden Step Lights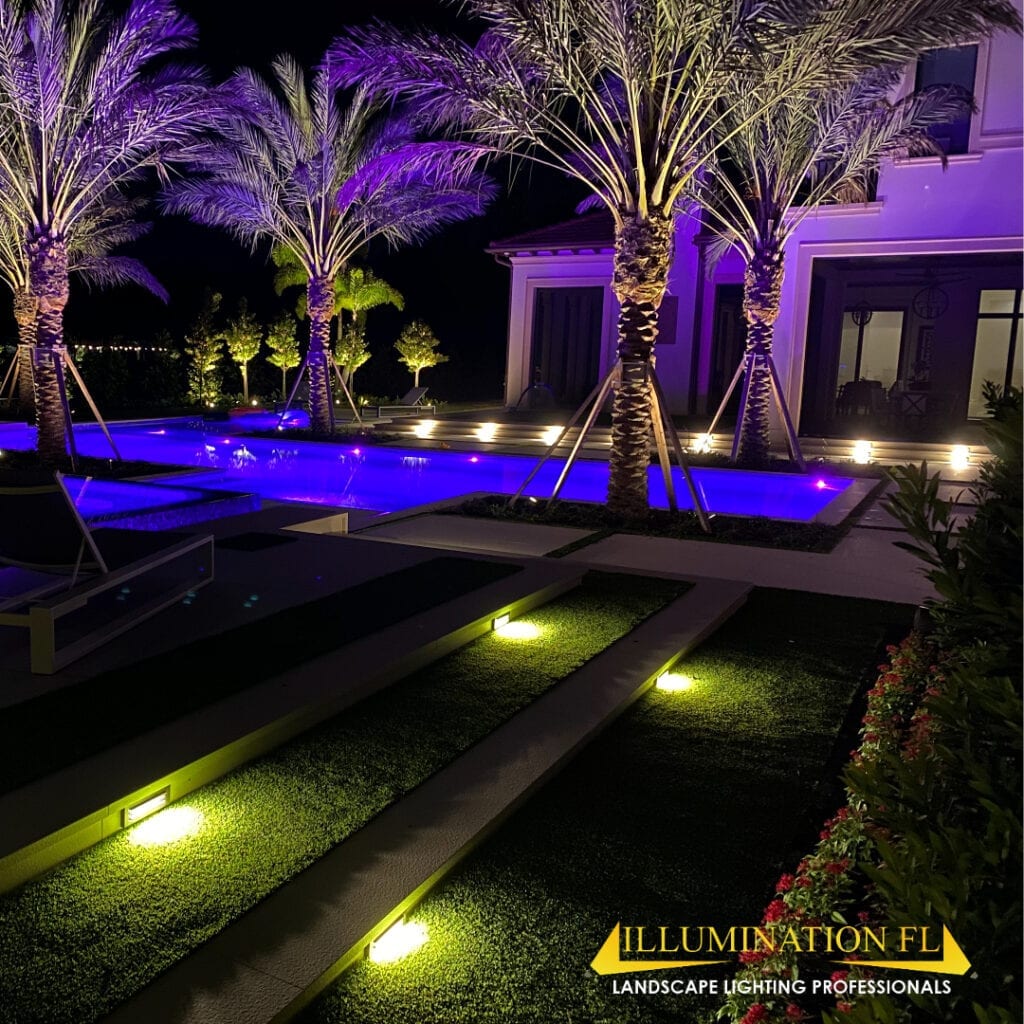 Garden lighting inspires a safe and balanced atmosphere. Step lights are about much more than just safety in traversing the garden where there are changes in elevation. Step lights can cast light and throw shadows in a way that helps to create the atmosphere you want to achieve. The addition of step lights to your landscape lighting plan will make it safer by helping to avoid getting tripped up. Not being able to see where a step is yourself or having a guest tumble over can be terribly embarrassing, that's one reason we take that into account when planning your lighting system. Step lights inspire a sense of safety and awareness.
Garden Path Lights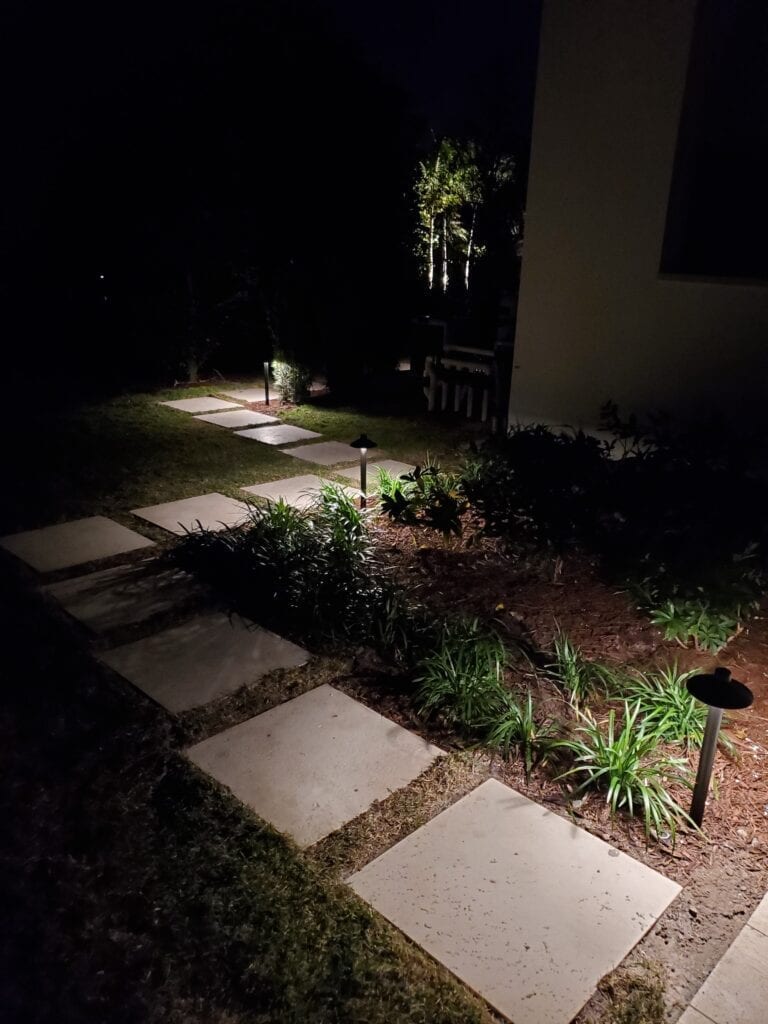 Garden lighting inspires a boldness in transition. A truly inspiring addition to your garden lighting design are path lights. Path lights cast light upon the ground where your feet are trotting. They also lead the eye to certain destinations within the garden. Seating areas or art installations, places where you will spend more time with friends and family. Path lights are all about guidance and making smooth transitions. Sometimes it's about the destination, but many times, it's about the journey.
Hardscape Lighting in the Garden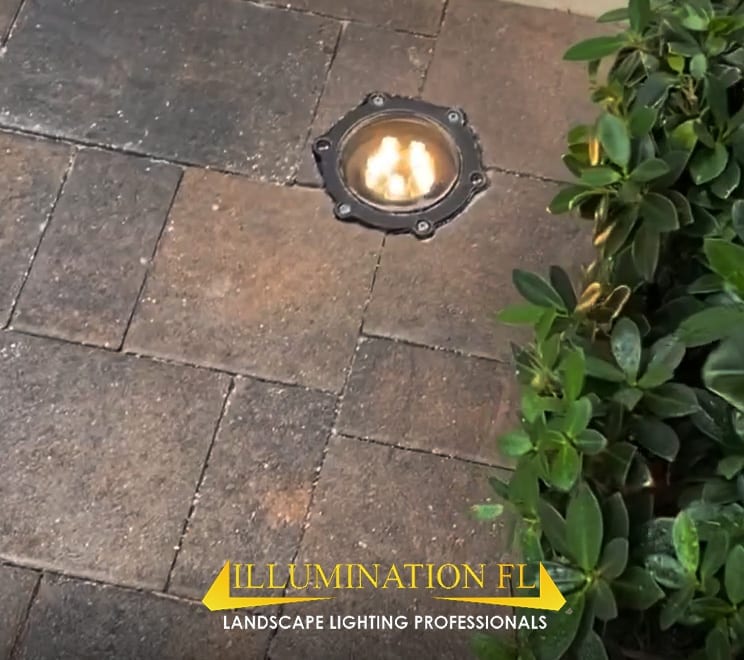 Garden lighting inspires a sense of diversity. An inspiring aspect of many gardens are the hardscape features. This can include fire pits, retaining walls, patios, certain types of water features. With good stone work and other hardscape features the opportunity arises to add new textures to what the eye experiences. When highlighting stone work, for instance, in a seawall, we can install waterproof LED fixtures. These fixtures shine up from the water and onto the wall. We can also install lighting in the wall itself. This approach creates a beautiful reflection on the surface of the water in the evenings. Truly inspiring!
Deck Lighting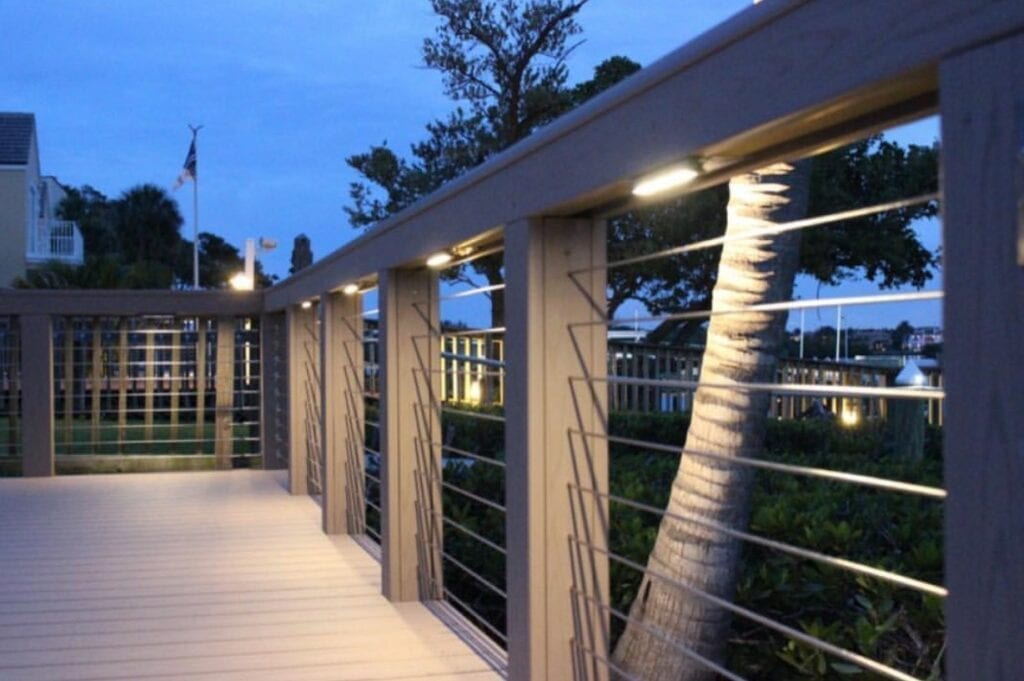 Finally, garden lighting inspires a sense of community. Here in Florida, we love our deck spaces. From tiki huts that cover bar and grille areas, to ocean decks that are outfitted with amber turtle safe lights, we gather with friends and family on our decks. A good lighting design from Illumination FL will enhance the way you enjoy your deck.
Call us today to create a resort atmosphere at an affordable price.
Palm Beach (561) 733-9300
Broward (954) 245-1368
Naples / Fort Myers (877) 233-1240
or text (561) 704-0336
Illumination FL offers award-winning LED landscape lighting design services, professional installations, and high value maintenance programs. We deliver exceptional customer service to home and business owners interested in eco-friendly landscape lighting.
As a family-owned business, our core values include the quality of our work, training of our team, and the satisfaction of our customers.