7 Reasons to Expand Your Outdoor Lighting System
Written by Justin Gaynor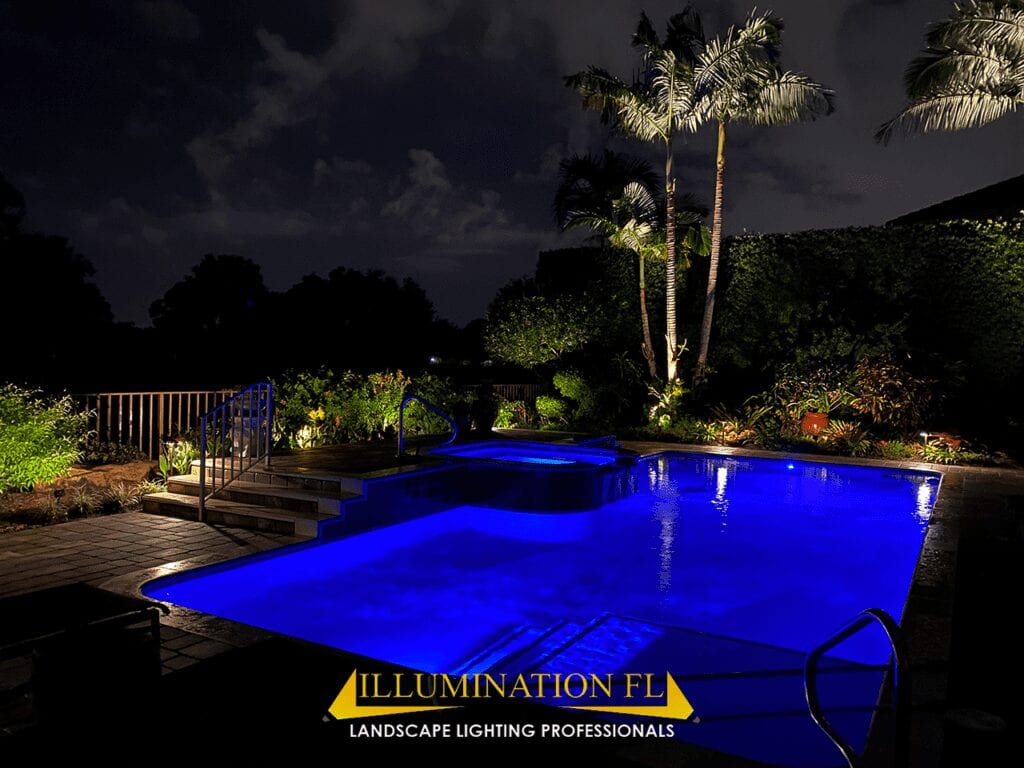 The time has arrived! Here are 7 reasons to expand your outdoor lighting system. Illumination FL is committed to seeing our customers get the most enjoyment from their outdoor living space. That is why we have put together this list of reasons why now is the time to expand your existing Illumination FL Outdoor Lighting System.
Autumn Weather
When it comes to outdoor lighting systems, Illumination FL outshines our competition here in South Florida. Part of the reason that we are able to do that is that we become long-term partners with our customers. We see your property's and your family's needs change through the seasons.
We think of customers that had their Illumination FL outdoor lighting system designed and installed because they were hosting their son's wedding reception at their home. The time another client expanded their lighting system to go with the completion of their new pool in time for their daughter's sweet sixteen pool party. There are many other stories like this that we have been a part of and that makes us feel good about what we do.
The autumn season is filled with cooler evenings, holiday gatherings, and shopping. It is a great season to expand your outdoor lighting system. Many of our neighbors who live in the North are returning to enjoy Florida's amazing autumn weather and our mild winters. Enjoying the autumn and winter climate can include spending longer hours on the porch swing, relaxing by the pool in the evenings, and so much more. It's a great season to expand that outdoor lighting system.
Change in Landscaping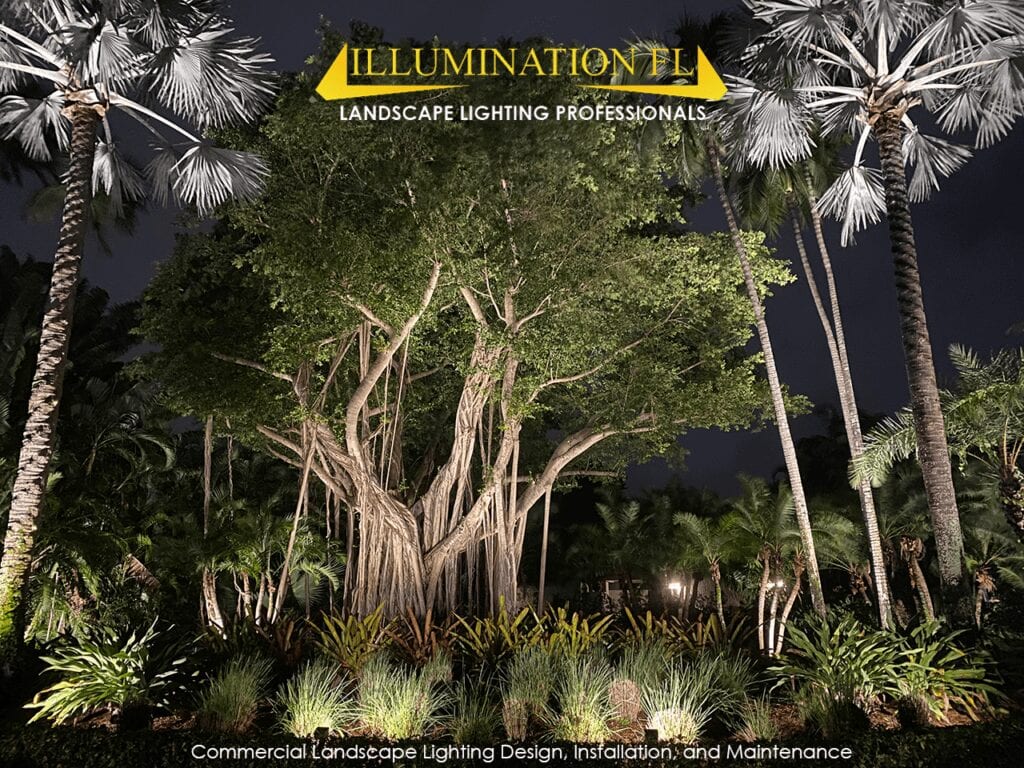 A change in landscaping is another good reason to expand your existing outdoor lighting system. Many projects get completed during the summer months. Now is the time to showcase that new art installation or those new royal palm trees and those Japanese blueberry trees.
Complete the Project
It is a great opportunity to complete the project you began with Illumination FL. We often develop an outdoor lighting plan and roll it out in phases to fit with our client's budget. Let's get that next phase completed before the end of the year! That way you can enter into 2021 with one of the most dramatic home improvement projects you've undertaken completed.
Holiday Preparation
With the season upon us holiday preparation is on the minds of many people. You may not be aware of this, but your Illumination FL outdoor lighting system can be slightly modified to display holiday colors. All you need to do is give our office a call and we will take care of it for you. At the same time, it's a wonderful time to expand your system.
Increased Security
After our clients experience coming home to a well lit household they appreciate the feeling of increased security. This is a great time to add those additional path lights around the driveway or next to walkway on the side of the house. With more shopping trips during this season, the safety and security that comes with a complete Illumination FL outdoor lighting system becomes all the more important.
New Sparkle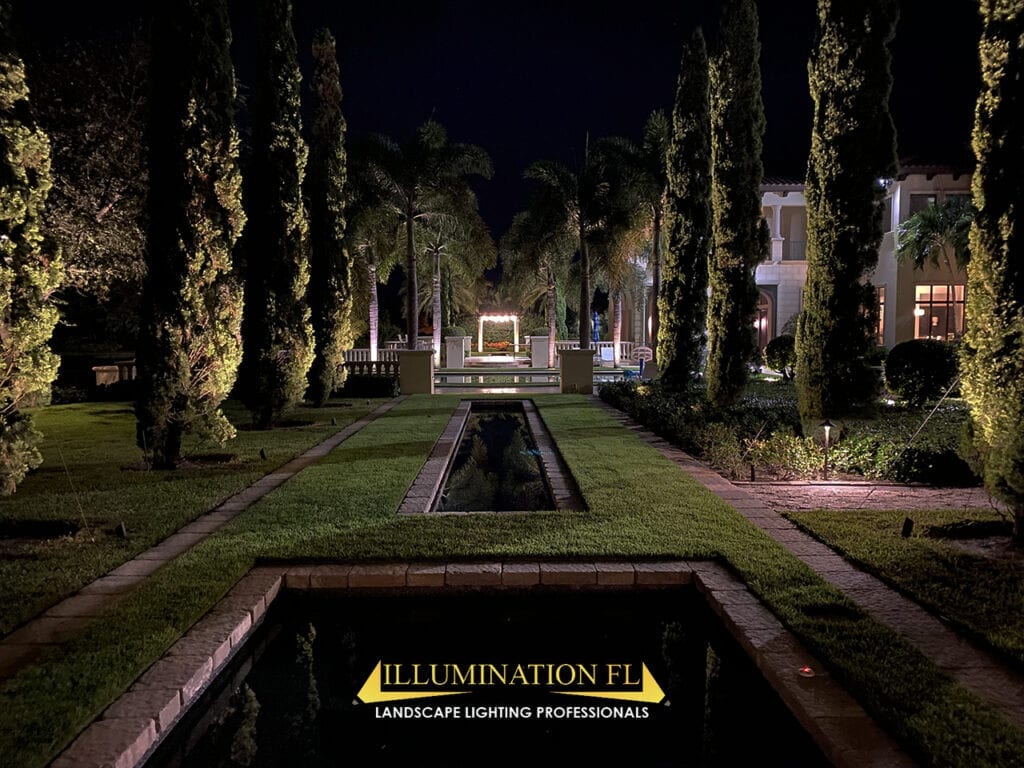 With more and more folks wanting to enjoy their Florida homes this time of year it's time to add a new sparkle. If we originally installed a small outdoor lighting system in your front yard to help with security and curb appeal or a five light system in your garden that's awesome. However, now would be a great time to add some new sparkle to a different scene in your outdoor space.
Perhaps some wash lights to highlight your home's architecture or some additional accent lights to make sitting on your back porch a little more delightful.
Savings Opportunity
Finally, through the end of the year we will be offering a 10% discount off of a new transformer with a purchase of five (5) or more lights to add to your system. You will need to provide this coupon code when you call to schedule your free design consultation and estimate: Coupon code – LEDQ4SAVINGS.
Give us a call today at (561) 733-9300 / (954) 245-1368 or text (561) 704-0336