Landscape Lighting Design
by Justin Gaynor
Designer Lighting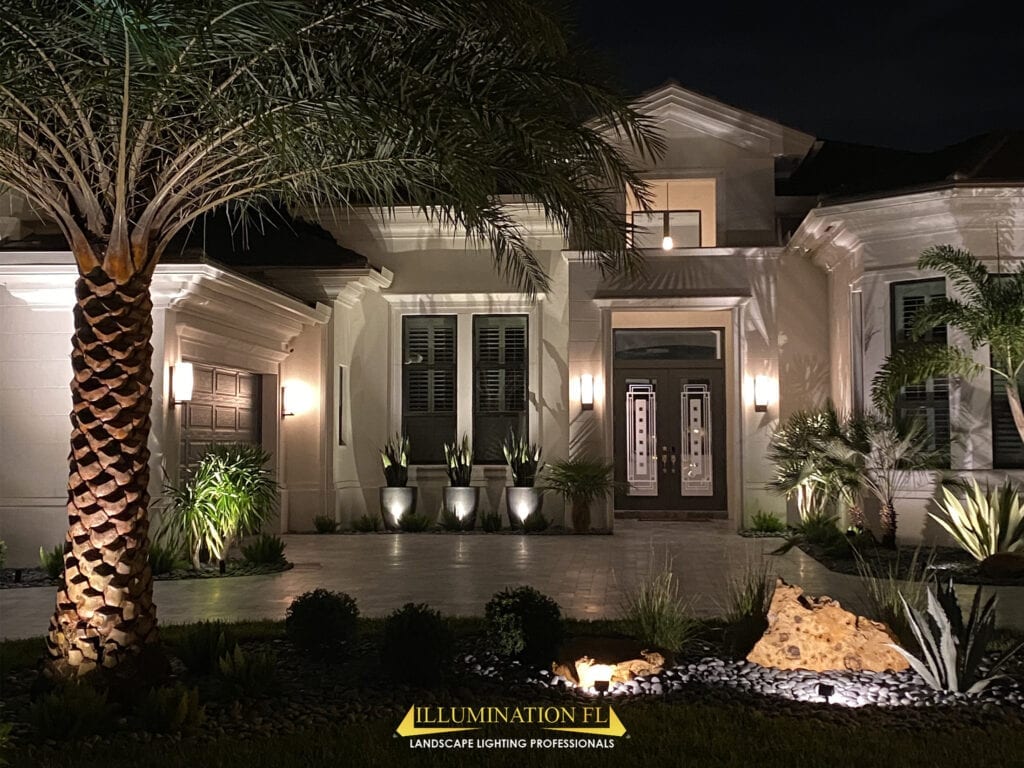 Landscape lighting design is both a science and an art. There is a difference between sticking a few cheap solar lights in the ground and investing in designer lighting.
First, designer lighting includes fixtures that are much higher quality. Second, the warranties on designer lighting systems are typically better than what you get at big box stores. Finally, designer lighting offers flexibility, and performance simply unheard of amongst the less expensive alternatives.
When it comes to landscape lighting design, it is about more than durability. In addition to the pragmatic realities, designer lighting is more aesthetically pleasing. To begin with, the consistency in brightness as compared to solar lights is significant. The fixtures included in quality designer lighting systems are quite beautiful. They range in style from sleek and contemporary to ornate and rich with crafted decorations. Designer lighting is the best choice for your landscape lighting project.
Lighting Plan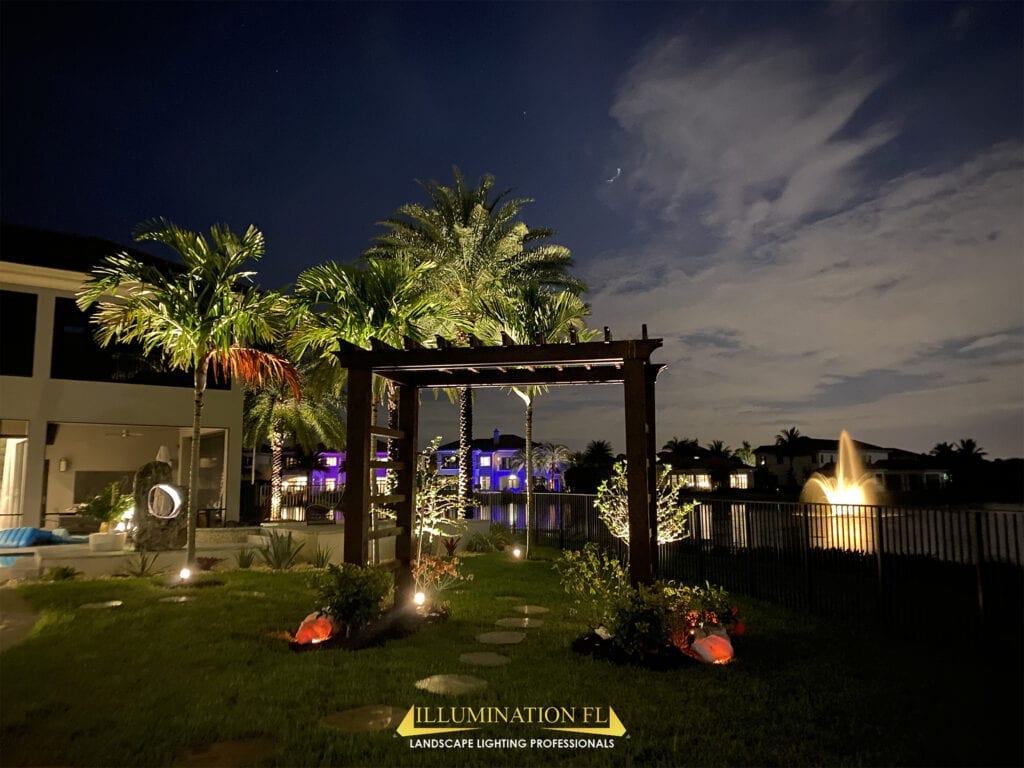 Landscape lighting design will always start with an evaluation of the property and the creation of a lighting plan. First, we need to make sure we are aware of where the power source is. We need to make sure that the appropriate space is available to install the voltage conversion hardware. If any modifications are necessary to install the vital components, that will need to be noted in the plan.
Next, we will need to identify the various scenes that make up the property. This includes considering how one scene transitions to another. A scene is a focal space. It may be a seating area in the garden or an island in the front of the home.
Finally, working closely with the homeowner, we will identify specific points of interest. We will use light to direct the eye and showcase these focal points. These might include certain trees or shrubs. It could also include art installations, seating areas, or areas for sport. All of this will come together in the plan along with details regarding how it will all be connected as one unified system.
Designer Fixtures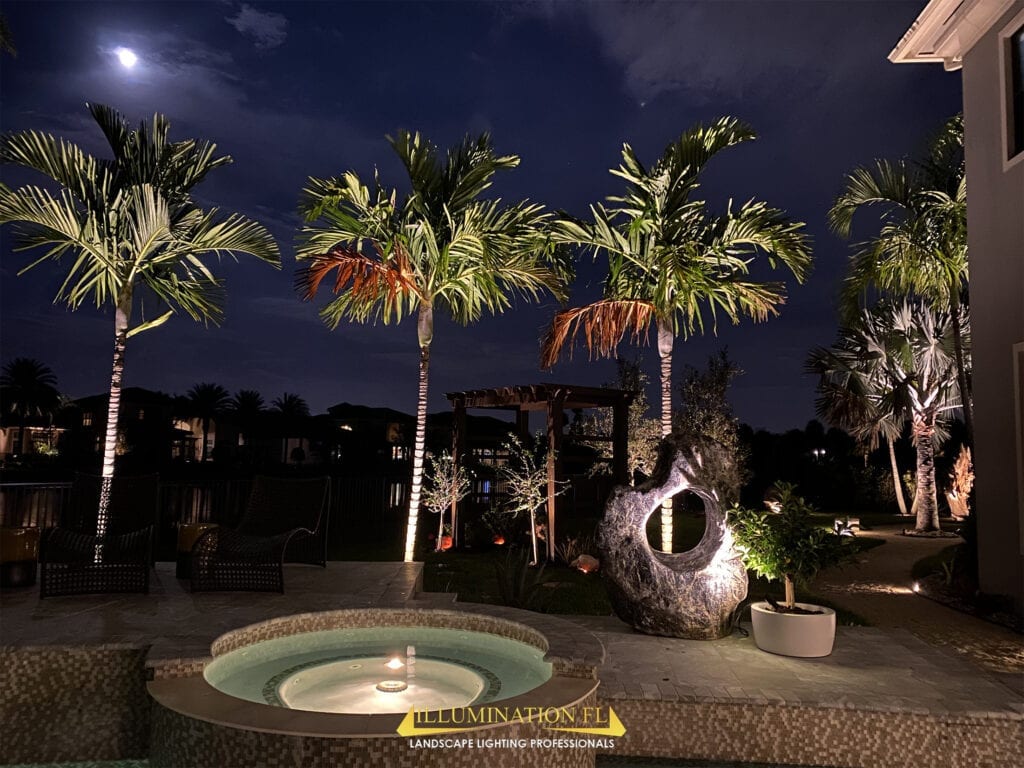 Landscape lighting design includes the selection of designer fixtures. Right off the bat, the choices made will take into account the placement of the individual fixtures.
Next, we consider how the beam from the fixture will affect the space. Some fixtures have very narrow beams, others can wash an entire wall with light.
Then we want to select fixtures whose light temperature works well with the architecture and color palette of the home. A Mediterranean home with a rich neutral tone will require a warmer light. A home with sharp, contemporary lines and gleaming white, and brushed nickel hardware will require a very cool temperature.
Lastly, the design of the fixture itself is considered in the landscape lighting design. With a variety of materials, styles, and finishes to choose from it is important to choose the fixture that compliments the home best. This is in addition to meeting all of the aforementioned requirements.
Design Flexibility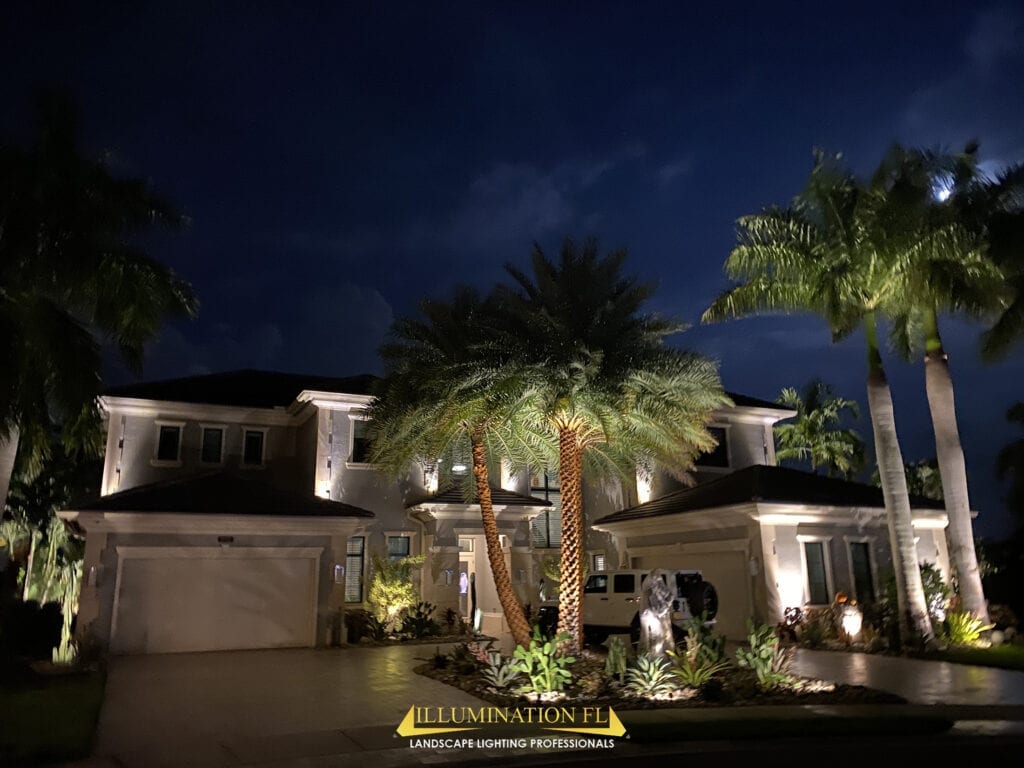 Landscape lighting design has an aspect to it that is flexible. Systems can be expanded and modified. This is helpful when a large system is required and there may be budget constraints. The system can be rolled out in phases over time. Then there is the possibility of changes in the landscape. The addition of a pool, hardscape feature, or garden may necessitate a change in the landscape lighting design plan.
When there is a required change to the system, you would simply need to contact your landscape lighting design representative and have them come and re-evaluate the space. Lighting fixtures can be added, moved, or taken away depending on what is best to accommodate the change in landscape.
Your Landscape Lighting Design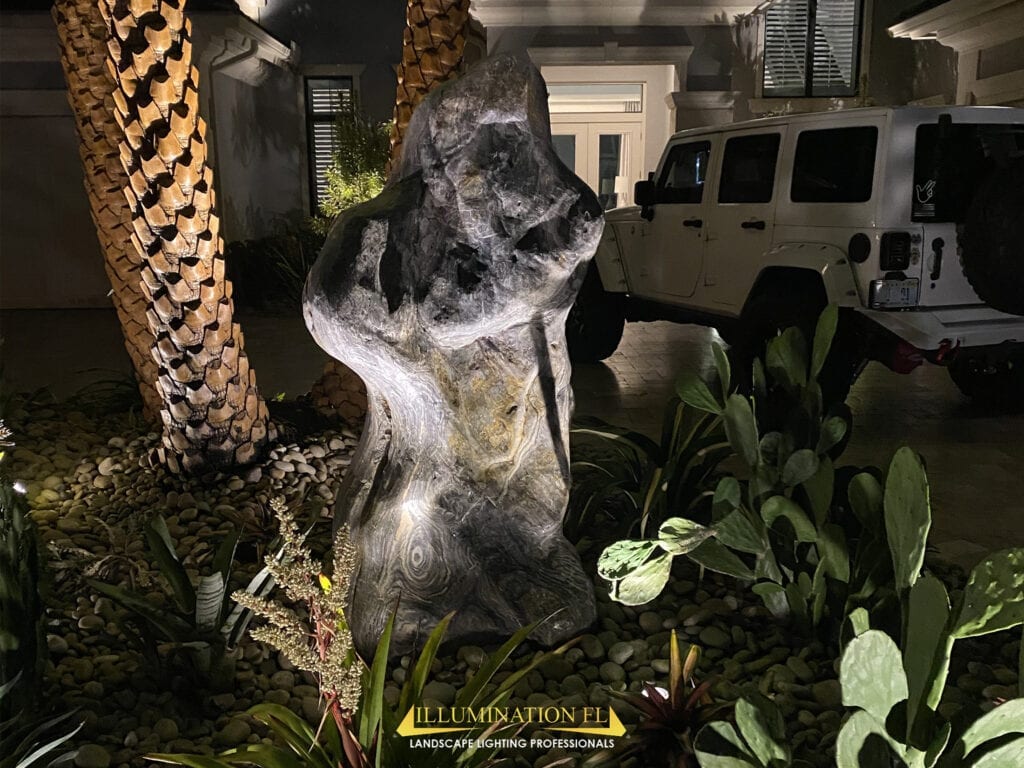 Your new landscape lighting design is just a phone call away!
If you are interested in landscape lighting for your home, Illumination FL is a family-owned business that has been serving South Florida for 16 years now. We would be more than happy to provide our design services to you free of charge.
Then, when the design is presented to you, we will include an estimate of your cost for the system. If you decide to purchase a new Illumination FL Landscape Lighting System, we can usually begin professional installation within two weeks.
You can reach us at (561) 733-9300 / (954) 245-1368 or via text at (561) 704-0336. We are looking forward to working on your landscape lighting design.