Landscape Lighting Basics and Beyond
Written by Justin Gaynor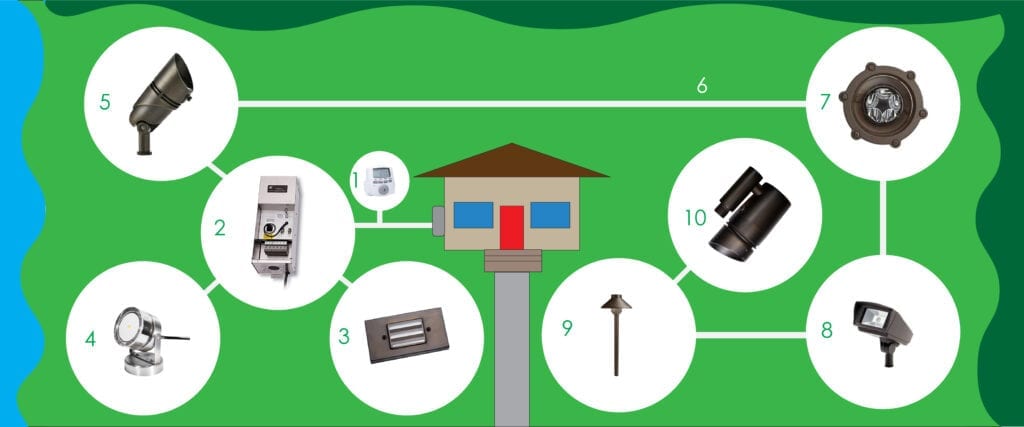 The professional design of a landscape lighting system starts with understanding landscape lighting basics, but goes far beyond. Our Illumination FL Landscape Lighting Designers take into account a number of variables. The result is a professionally designed and installed outdoor lighting system that will make your home or business look amazing.
We deliver systems that are custom tailored for the environments that they showcase. Understanding the basics behind your Illumination FL landscape lighting system is important. We recently introduced our new 'Landscape Lighting Basics' page. First, this page helps folks that are interested in landscape lighting learn about LED technology. Then we look at an overview of a basic system. Finally, we review the types of components that make up a basic system.
This article focuses on how these outdoor lighting components can be orchestrated to create an amazing environment for your home or business.
Custom Lighting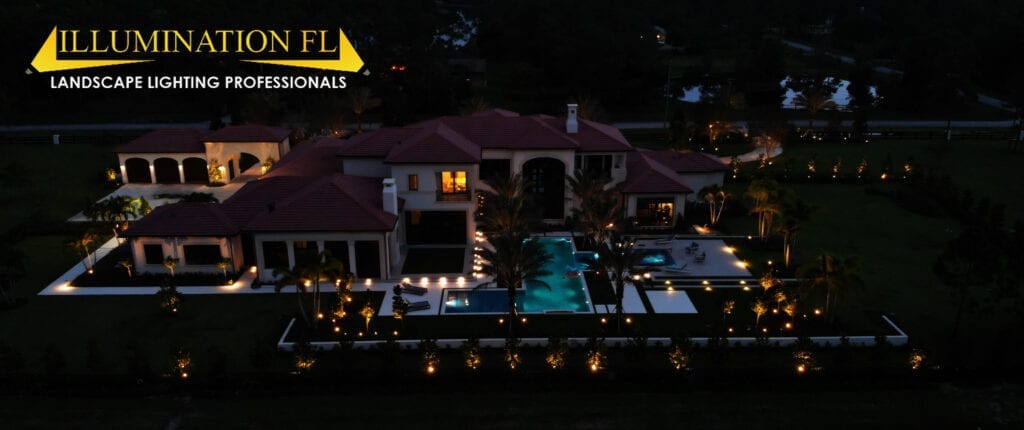 Custom Lighting for the exterior of your home is an investment. The way you, and the community you live in, will experience your home will improve. With custom lighting, your home will stand out when neighbors are taking their evening walks and travelers drive past.
Having invested your hard-earned money in quality landscaping or architectural design, custom lighting is going to showcase that. Landscape lighting basics still being in focus, what is the difference between a pre-packaged system and a custom system like we offer at Illumination FL?
Pre-packaged systems can be purchased at local home improvement stores. These systems are less expensive than custom lighting. The additional costs involved with custom outdoor lighting systems is an investment. You are getting tremendous value for the additional investment, though.
The value you receive includes the design services, higher quality components, professional installation, the amount of warranty, and a number of other factors. It's like choosing between buying a Daewoo or a Mercedes E-Class. They will both get you from Point A to Point B, but for how long, how well, and with what sense of emotion?
Lighting Design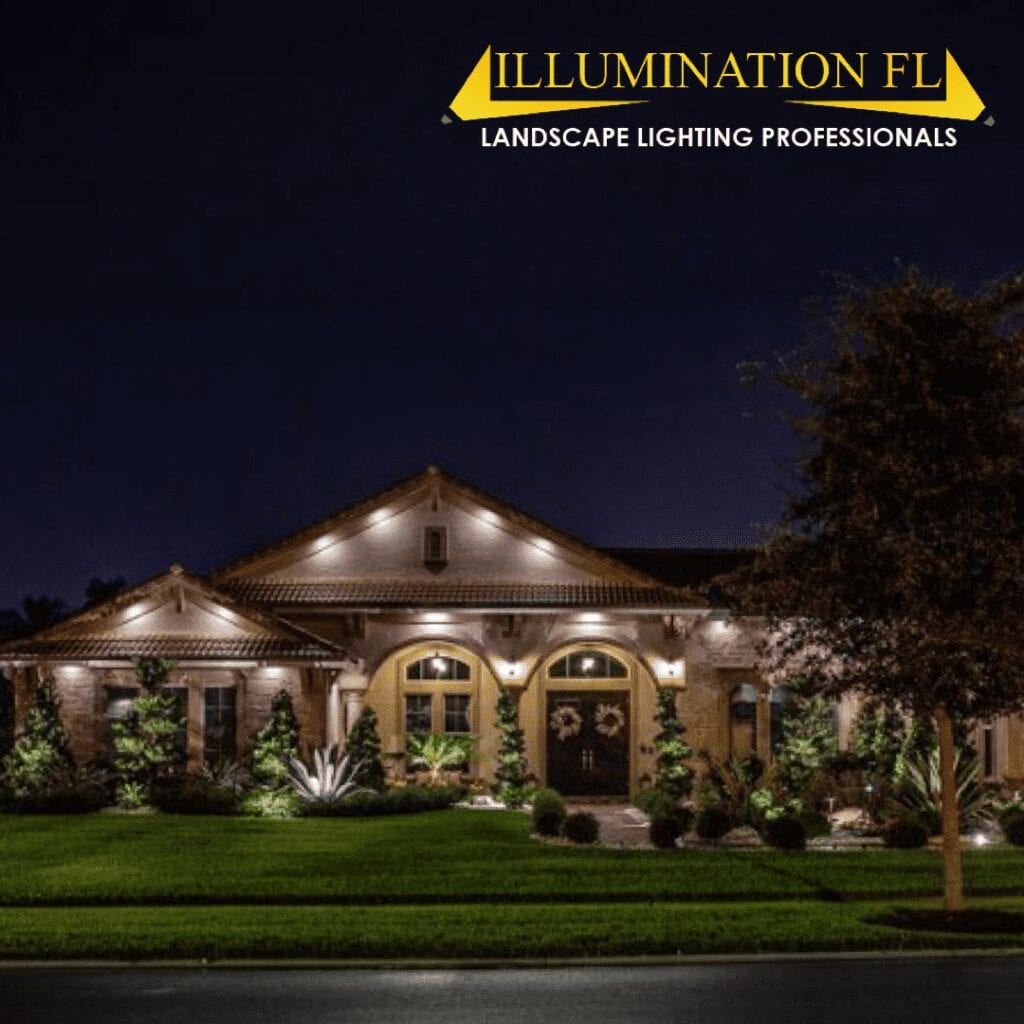 Lighting design, keeping with the car analogy, includes the framework and all the major systems. It also gets down into the details of how the textures reflect or contrast one another.
At Illumination FL, style and design is important to us. We don't give our design services to our customers for free because they aren't valuable. Rather, because they are highly valuable. Our name is closely associated with every job we do. That is why we want every job to be perfect when we are finished.
Lighting design takes landscape lighting basics and goes beyond with the development of an atmosphere or an experience. Good design includes accounting for and harmonizing the relationships between:
Lighting fixtures
Light temperature for each fixture
Light intensity for each fixture
Placement within the overall design
Transitions from scene to scene
Accounting for existing light pollution (street lamps, etc.)
and much more…
Lighting design is both an artform and a science that requires balance. You can count on the highest quality design and components when you buy from Illumination FL.
Outdoor Lighting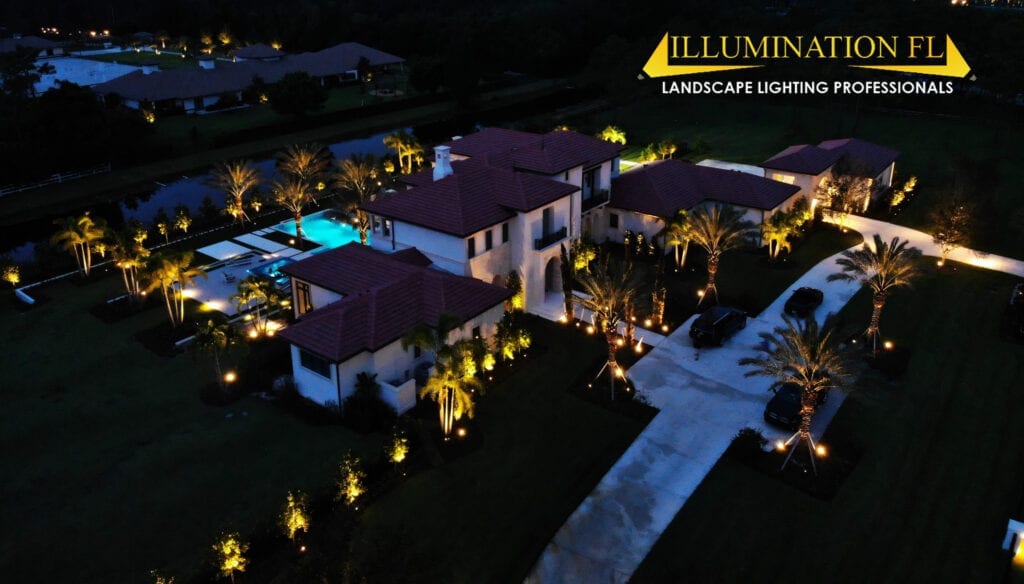 Landscape lighting is outdoor lighting. First, systems must be strong and durable. That seems like an obvious thing. However, it affects everything. Then, components need to be sealed and weatherproofed. Next, connections need to be secure and protected. Finally, fixtures need to be made of durable materials and have finishes that can stand up to the South Florida elements.
Illumination FL provides an industry leading level of quality and craftsmanship in developing custom landscape lighting systems. What we do is going to make your home or business look good for years to come. You can expect this kind of quality and craftsmanship from Illumination FL. This is how we take landscape lighting basics and go above and beyond.
Listen to what a few of our recent customers have said: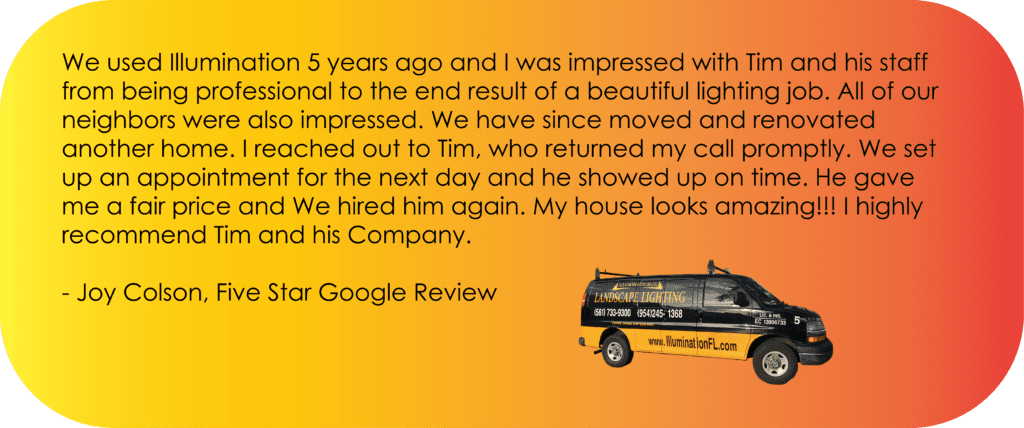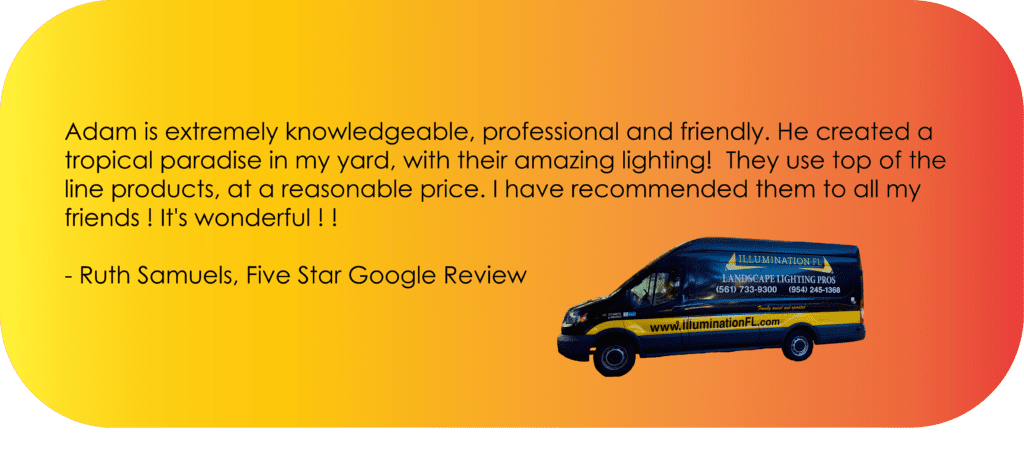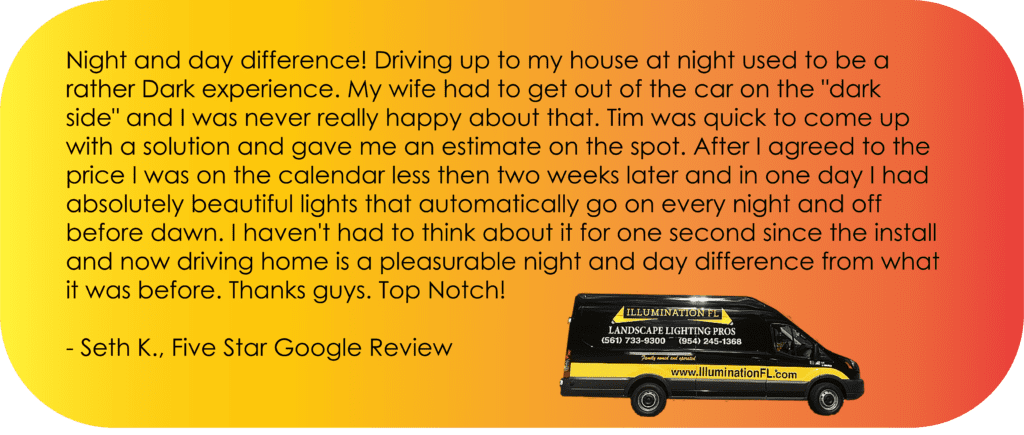 Call today for a professional design consultation and estimate give us a call today at (561) 733-9300 / (954) 245-1368 or text us at (561) 704-0336.