Outdoor Lighting Ideas from SoFlo
Written by Justin Gaynor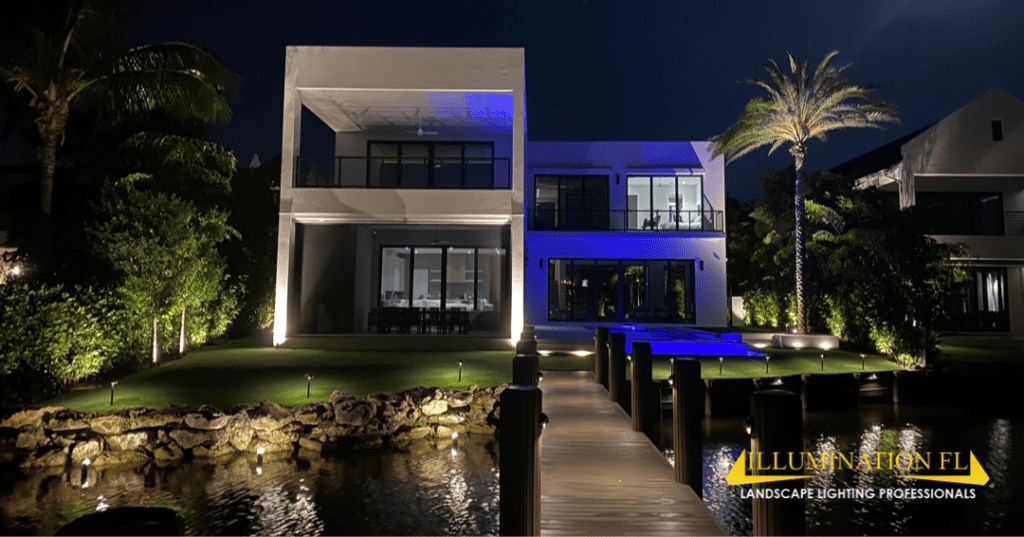 How about some great SoFlo Outdoor Lighting Ideas! This amazing custom lakefront home in Delray Beach, FL has a diverse outdoor lighting system. The landscape itself brings together a diversity of elements for some unique ideas.
These include natural hardscapes and water features. The property also presents clean, contemporary architecture, designer hardscapes, and high-quality landscape design. Because of the variety of elements and scenes, we had an opportunity to expand the types of fixtures we utilized. The finished product is a diverse outdoor lighting system that offers a resort look at an affordable price.
Let's take a quick walk through…
Wash Lights – Contemporary Style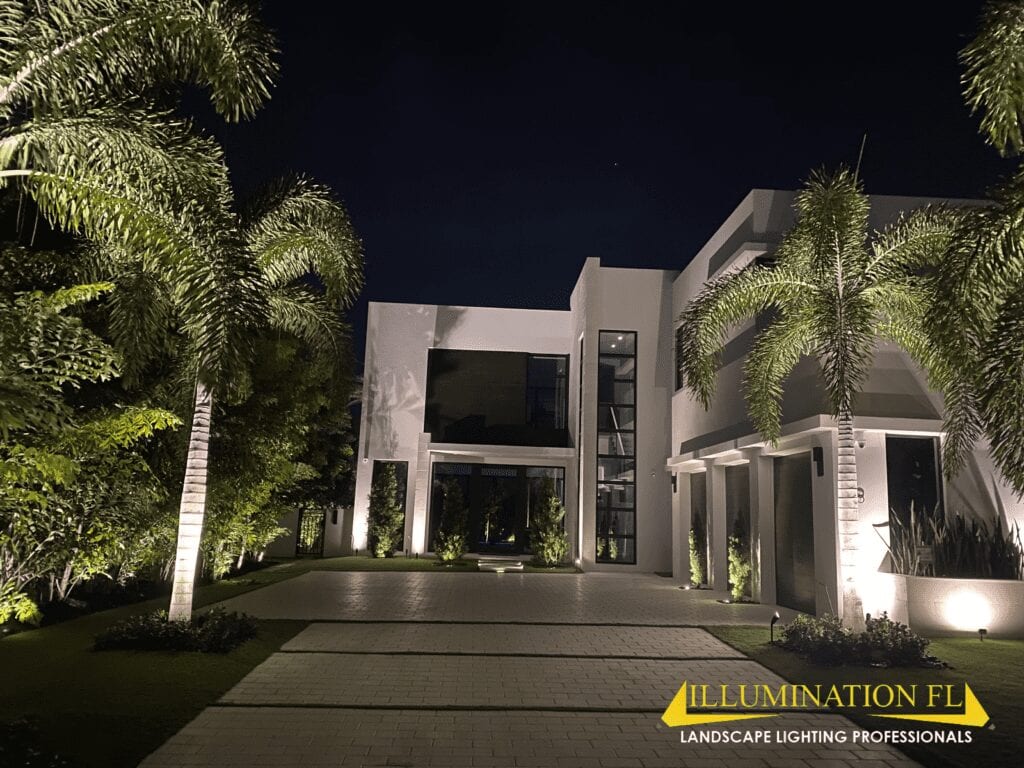 First in our SoFlo landscape lighting ideas is staging the arrival. You immediately notice the wash lights highlighting the contemporary style architecture. Wash lights are helpful when working with large areas such as hedges or walls.
In this photo, you also see the use of accent lights to showcase individual palm trees and columns. Well lights work alongside the accent lights to give a similar effect with a cleaner, less obtrusive presence.
Outdoor Lighting with Path Lights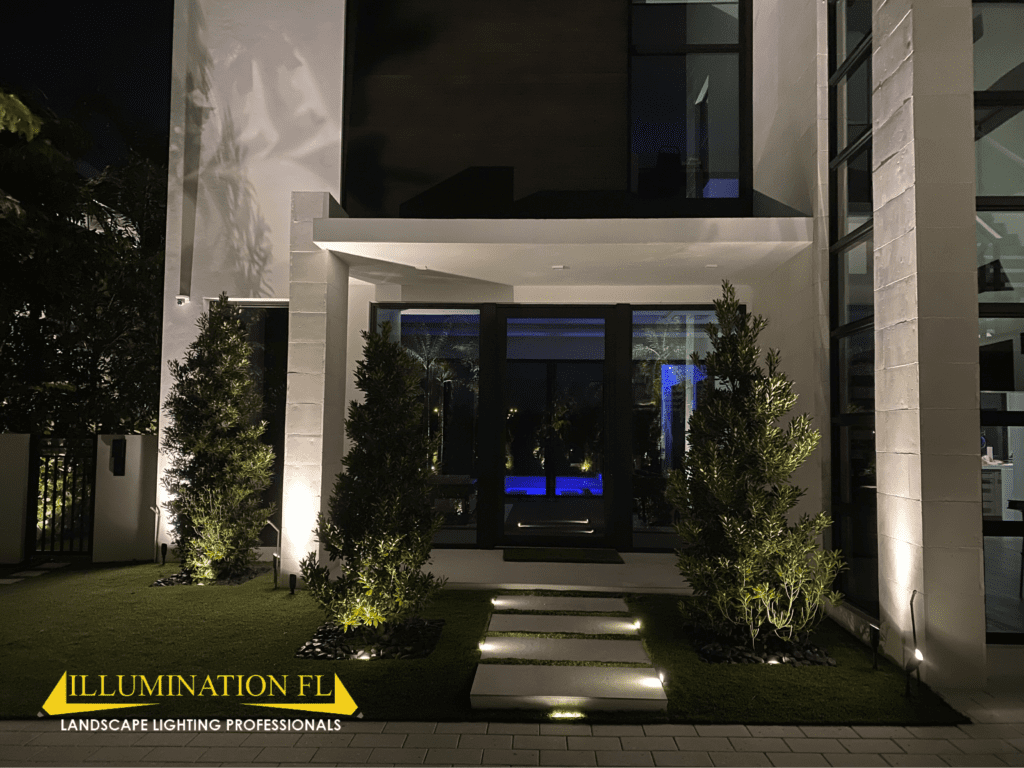 Secondly among our SoFlo outdoor lighting ideas, focus on how the low-profile path lights from Sterling Lighting offer such a sweet homecoming as we get a little closer. Notice the way the outdoor lighting casts light upon the stepping stones from either side. The zigzag placement breaks up the symmetry in a tasteful way.
The accent lights are available in a variety of beam spreads (15°, 30°, 60°, 120°, etc.) depending on the application. You can read more about outdoor lighting beam spread on Kichler's Design Tips page.
Illumination FL holds quite a few awards from Kichler. We have been recognized as their outdoor lighting "Contractor of the Year." More recently, we were their outdoor lighting "President's Club Award" recipient.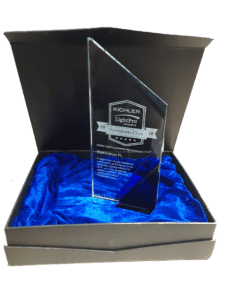 Dock Lighting – Seawall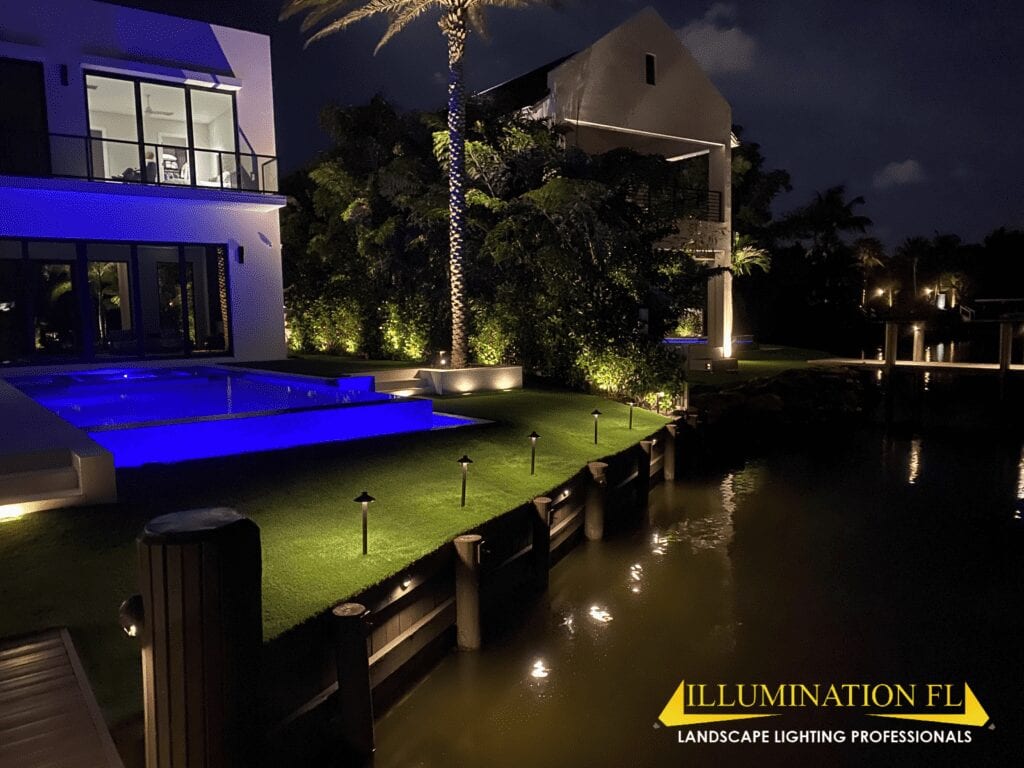 Next on our journey through these SoFlo outdoor lighting ideas, we take a refreshing walk with another style of path light being showcased. Look close and see the dock lighting along the seawall as well. The outdoor lighting on this lush lakeside makes it a great place to kick your shoes off and truly enjoy the Florida life.
The row of ballard-style path lights have a protective 'hat' that spreads the light along the way. The top cover guards the LED bulb from the elements and prevents the light from shining up into your eyes while you are strolling.
LED dock lights are installed on the seawall as I mentioned. They are also on the pilings. This all works together to create a great atmosphere for the homeowner year round. These lights are extremely durable, requiring as little as semi-annual maintenance (Recommended).
Submersible LED Lights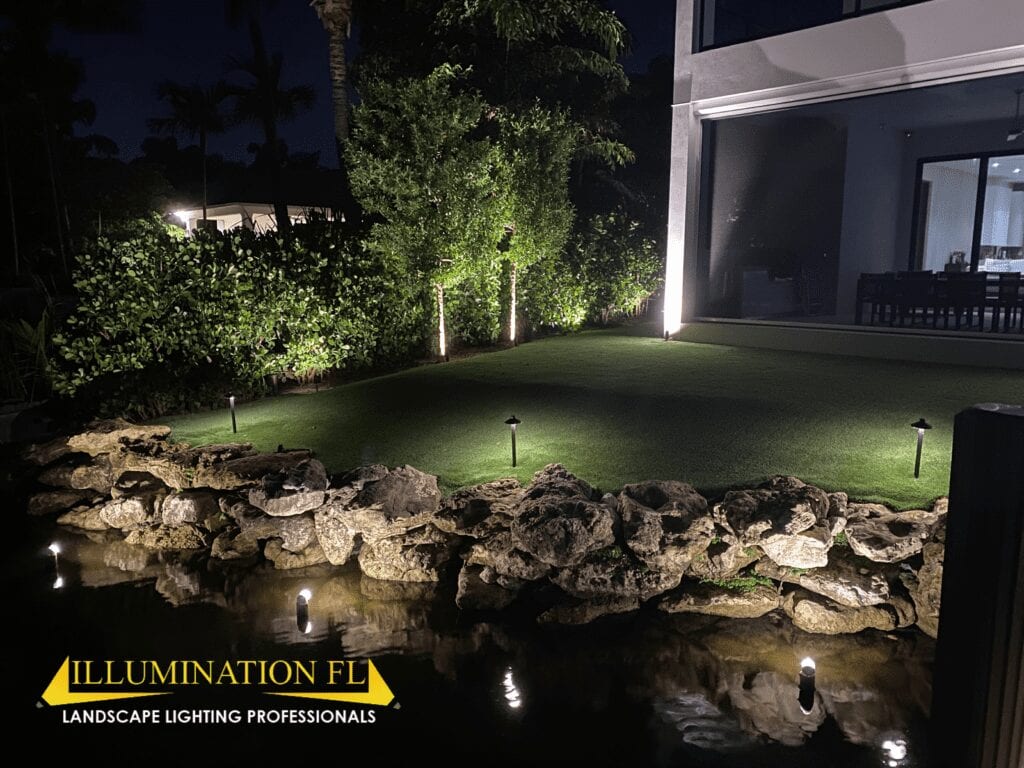 Finally, submersible LED lights will conclude our list of SoFlo landscape lighting ideas, for now.
The surface-mounted LEDs on the wooden seawall look great, but this is next level. These submersible LED lights are sealed and fully waterproof.
Look how beautifully they accent the natural stone seawall. They also create a wonderful reflection on the surface of the water for our homeowners to enjoy.
If you like these landscape lighting ideas, I would encourage you to visit our new Landscape Lighting Basics page to learn more about how an Illumination FL Outdoor Lighting System comes together.
Call today to schedule a FREE design consultation and estimate if you want to have an Illumination FL Landscape Lighting System installed on your property!
(561) 733-9300 / (954) 245-1368 or Text us at (561) 704-0336