The Romance of Landscape Lighting.
Written by Justin Gaynor
Lighting the Flame Again – A Lighting Plan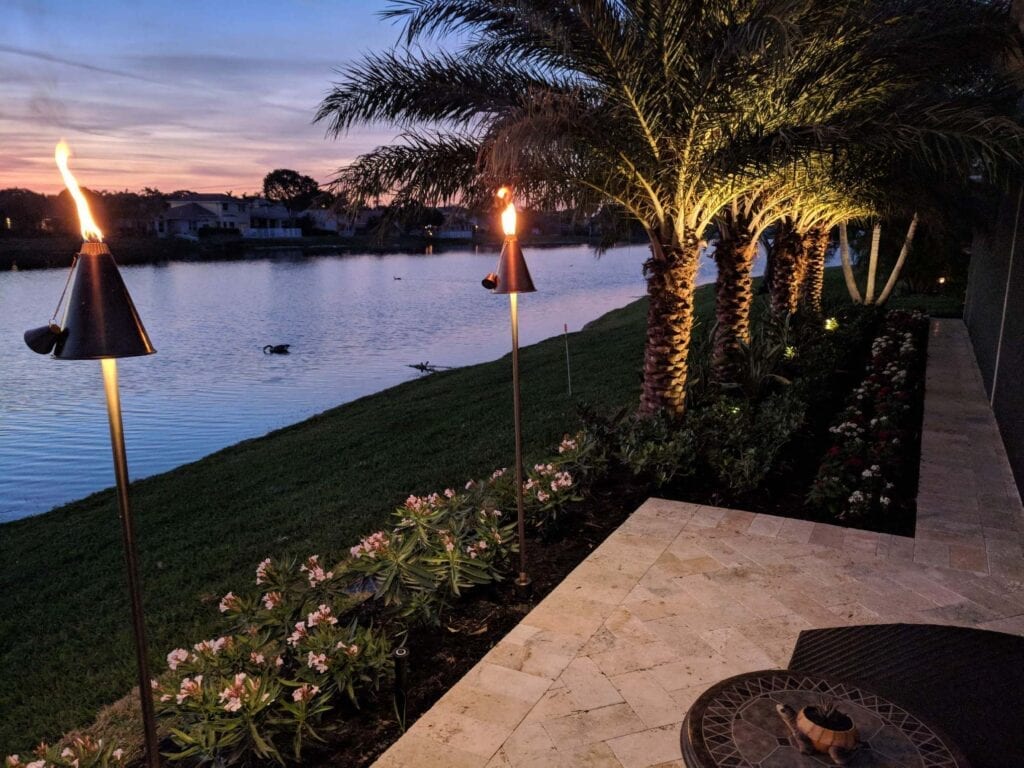 The romance of landscape lighting will transform the atmosphere of your home. When you first saw your house, there was a spark. You were working with an architect to develop a custom home or you saw the potential in a fixer-upper. Something moved you to make one of the largest purchases people make.
When you first moved in, you immediately went to work making the house your home. Your home, and no one else's home. You settled in and got comfortable. That comfort felt good. Over time though, familiarity led to a little bit of boredom and that initial excitement and joy slowly faded.
I would challenge you to consider that the time for lighting the flame again has arrived. Your outdoor space is likely the most underutilized space that you have. This is true because once the sun goes down, we tend to move indoors for the evening and slip into routine. A designer landscape lighting plan is the starting point for one of the most dramatic improvements you can make to your home. Properly carried forth, it will be like seeing your home all over again for the first time.
Setting the Mood – Lighting Temperature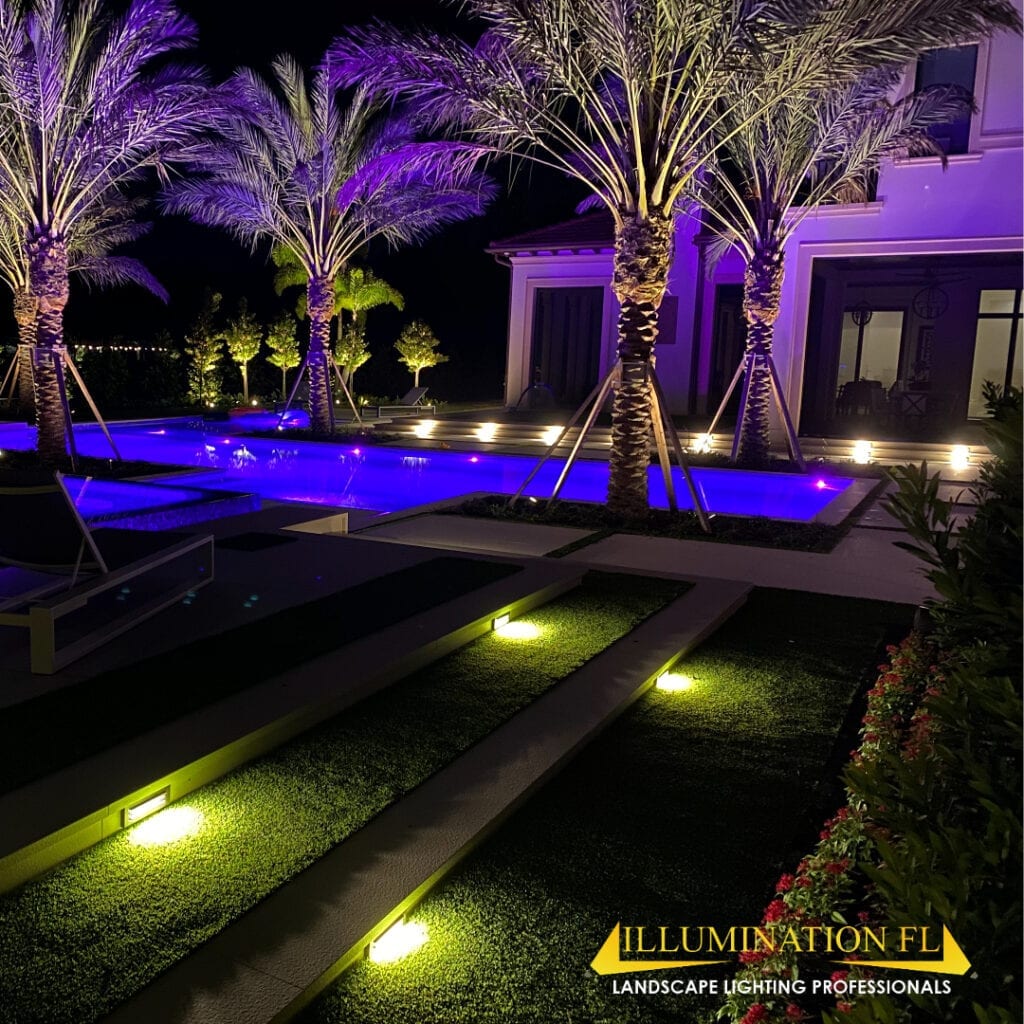 Setting the mood of a space with lighting has long been embraced by resorts, high-end dining establishments, and entertainment venues. Illumination FL makes that same level of transformation to the atmosphere of your home not only possible, but affordable.
Consider arriving home after an amazing dinner with your spouse at Mizner Park in Boca Raton. Your Mediterranean-style home that used to be just as dark and ho-hum as the rest of the houses on the street, now has a warm, welcoming glow. The two of you look at one another and smile.
The romance of landscape lighting brings a new level of security to your life. You walk to your door with a rich sense of safe contentment. Much better than fumbling around trying to find the keys in the dark like before. You invite your wife to head out back to the garden seating area while you pour a glass of cabernet for the two of you. She walks through the French doors and her eyes brighten as she is led by the soft path-lights to a little table and two chairs lovingly placed just for the two of you.
A Scene for Love – Painting With Light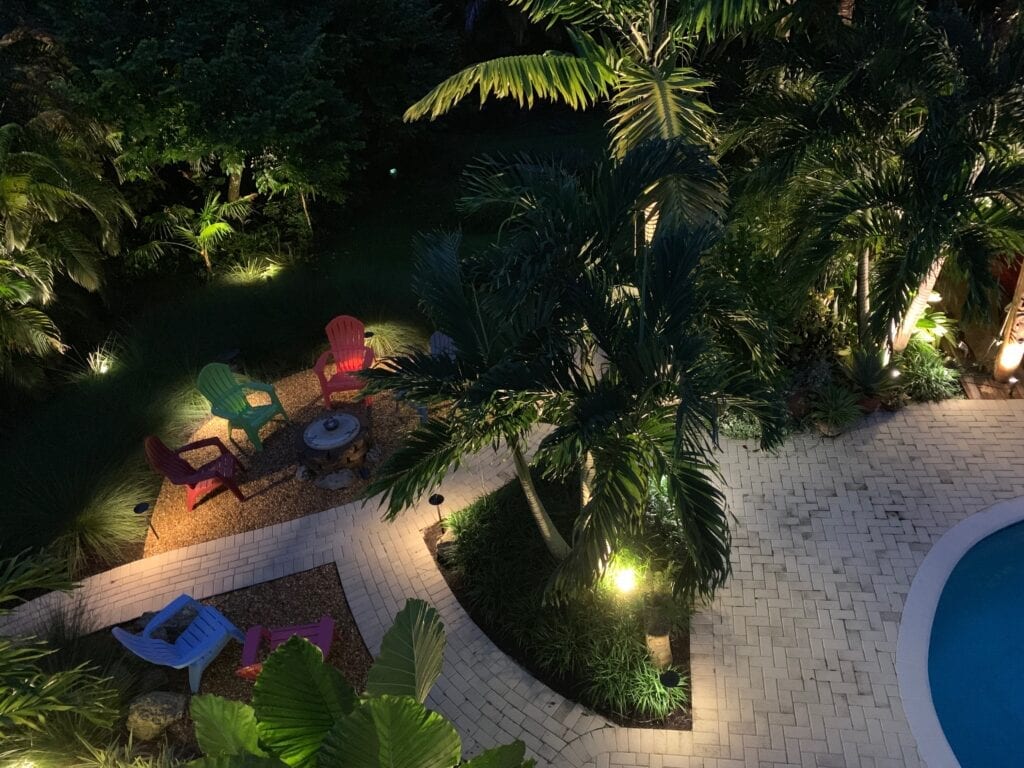 A scene for love has been meticulously planned. There are warm down lights placed in the oak tree that serves as the backdrop of the scene. It's strong branches form a canopy over the soft, aromatic shrubs and the large vibrantly colored hibiscus flowers. Her heart flutters a little and she wishes you were already there.
You finish pouring the wine and follow her into this scene. You notice how beautiful she looks in the new dress you recently gave her for her birthday. Her eyes sparkle a little as she takes her seat and glances toward you. You take your seat next to her. She comments, 'This has been an amazing night. I love you so much.' You smile in agreement and tell her how happy you are to be enjoying this time with her. This is a beautiful scene and it belongs to the two of you.
Sustainable Relationship – Benefits of LED Technology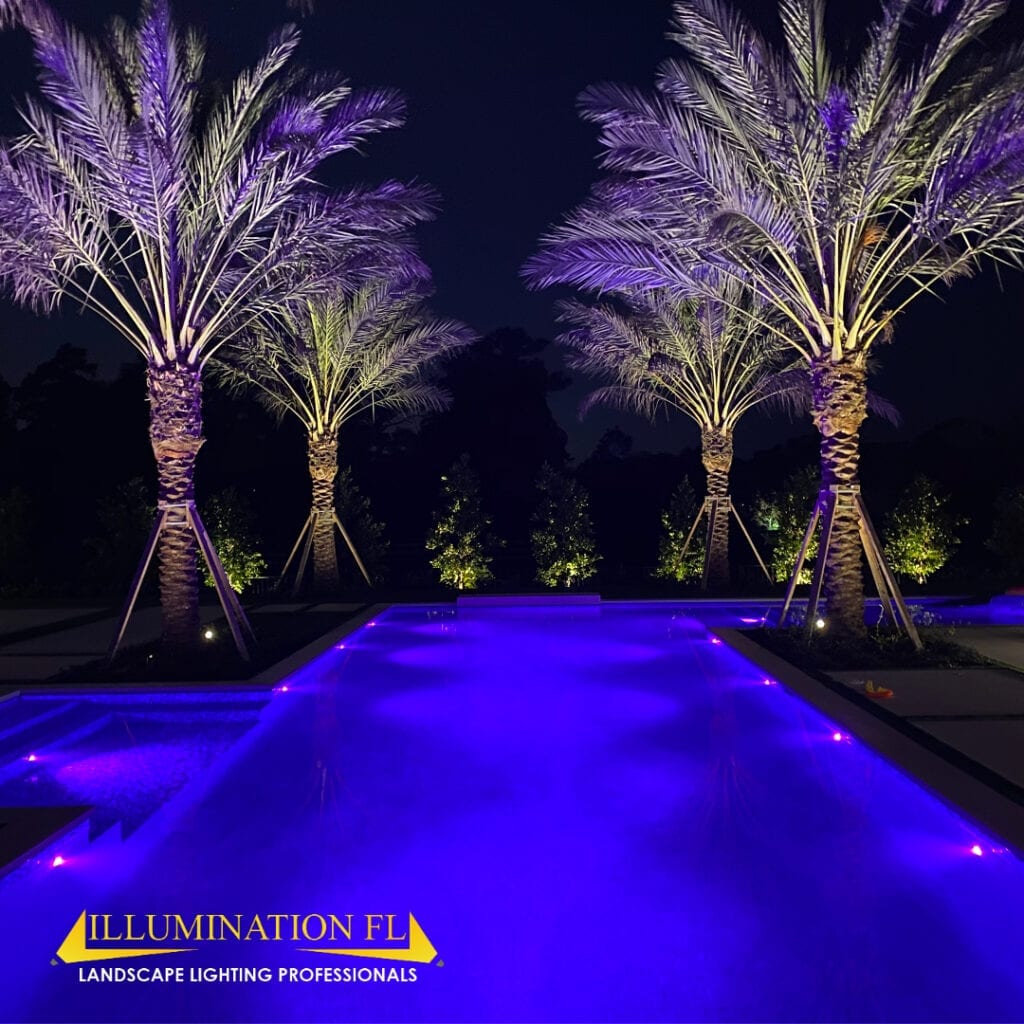 You both realize that this is the kind of relationship that lasts.  The conversation turns to how wonderful the scent of the garden is.  Looking around, you briefly notice a few of the Illumination FL landscape lighting fixtures and you remember how your designer told you that this was the kind of lighting technology and hardware that will endure the test of time.  The romance of landscape lighting is something that lasts. Your minds almost simultaneously go back to your honeymoon, the moment that originally inspired the design of your backyard landscaping design.
She says, 'Remember that joke you told me when we were sitting in the garden at the resort in Bali, you know, on our honeymoon.' You tell her, 'I was literally just thinking about that.' An overwhelming sense of gratitude takes hold of both of you.
Reflecting on Beauty – Enjoying Your Environment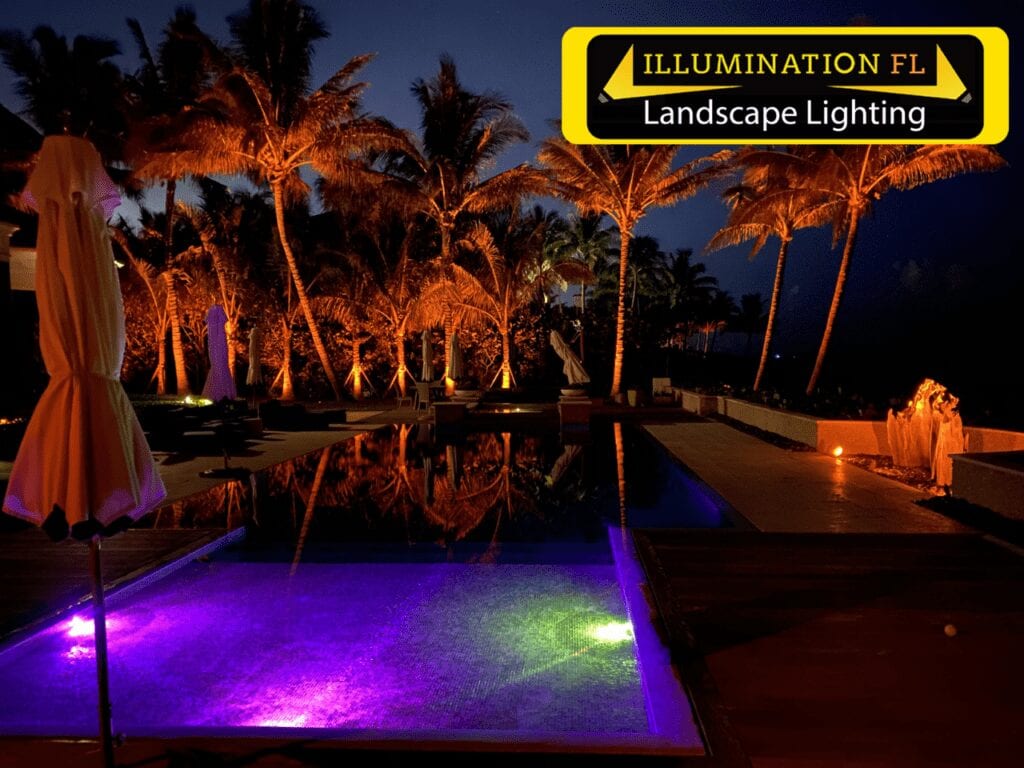 Sitting there together you continue reflecting on the life that you have enjoyed together. You get a little more relaxed and you both allow your eyes to search the space around you. The home that you are building together highlighted with up-lighting and the little narrow path that you trod to where you are presently sitting. The good times entertaining friends and family come to mind. You comment on the bright colors reflecting on the surface of the pool. She gives you a little smile, 'The kids are at grandma's house, feel like going for a swim?'
If Illumination FL can help you transform your home with a custom landscape lighting system, give us a call today and we can schedule a free design consultation for you.
(561) 733-9300 / (954) 245-1368 or Text (561) 704-0336