Quality is What Makes The Difference
Written by Justin Gaynor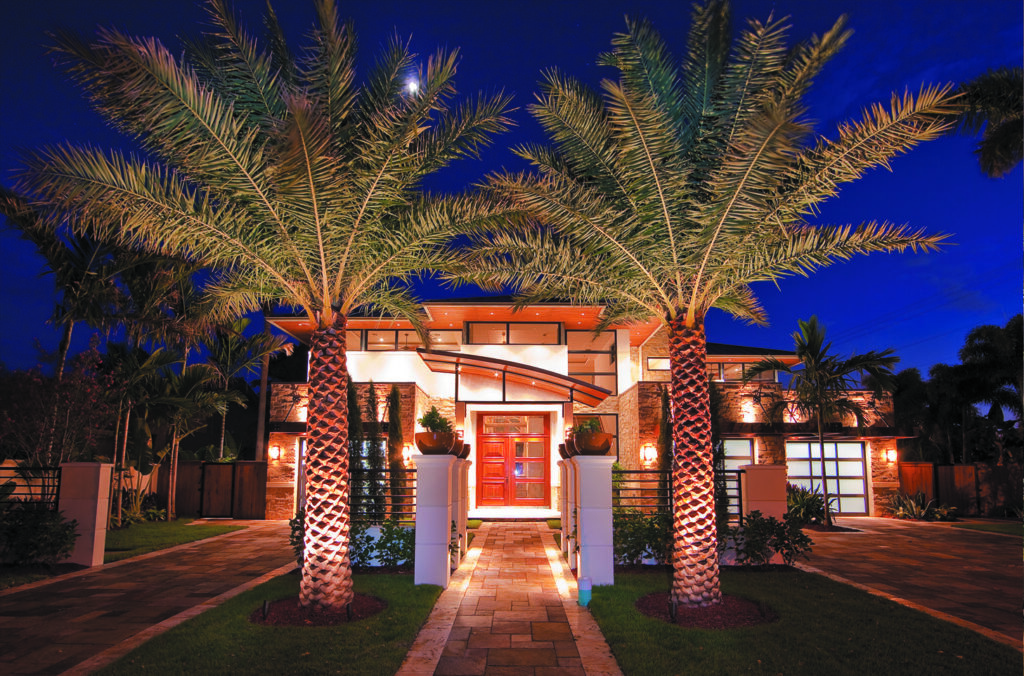 When making significant purchases, quality is what makes the difference. At Illumination FL Landscape Lighting, we take time to source the highest quality fixtures and landscape lighting components. In this blog, we are going to review some of the key things Illumination FL looks for to make sure your landscape lighting system is durable, efficient, and effective. We are going to talk about what makes for a quality fixture, systemic integrity, warranty, and low maintenance. After reading this article, you should be confident that investing in a new Illumination FL Designer Landscape Lighting System is a great choice to improve your home.
Quality Landscape Lighting Fixtures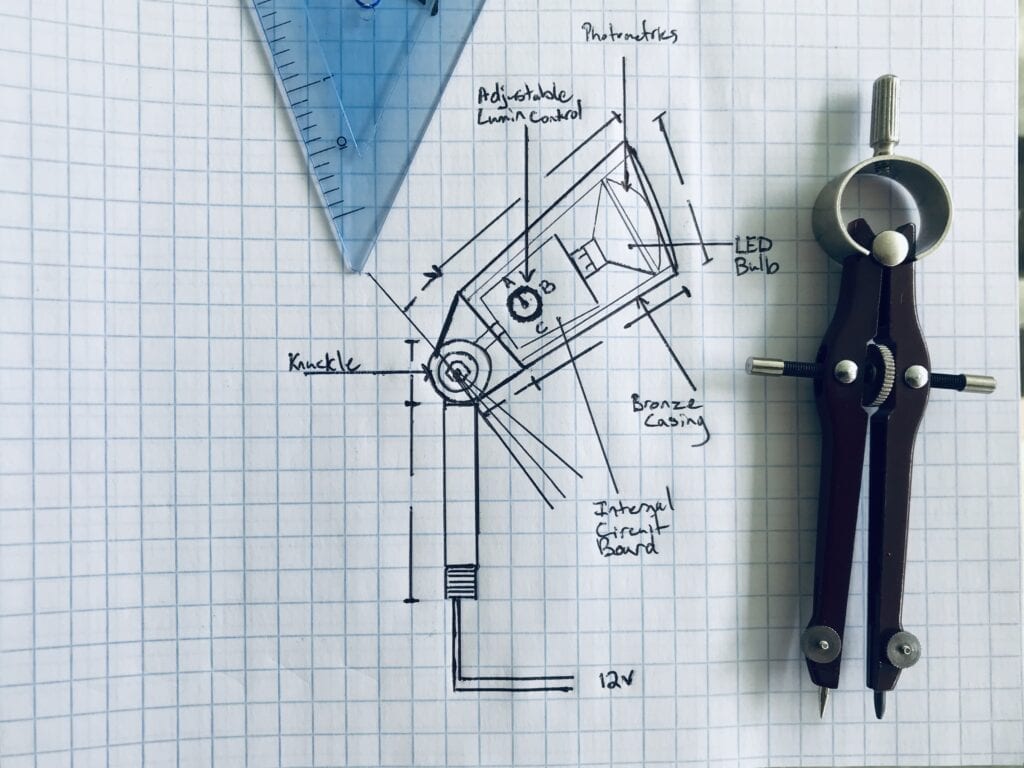 Quality landscape lighting fixtures will deliver the right amount of light at the desired light temperature. These fixtures will have housings that are engineered to withstand the elements while protecting the internal components. Quality landscape lighting fixtures vary in their lumen output.
Lumens
Lumens are a measurement of light emitted within a certain amount of time. Spoken plainly, the higher the lumens the brighter the light, the lower the number of lumens, the dimmer the light. With our designer landscape lighting systems, we use fixtures with various levels of lumen output. The purpose of this is to arrange the lights in such a way that we achieve a desired scene, create a mood or atmosphere, make use of shadows, create reflections on water features, etc. Therefore, a key factor in the quality of a fixture is that it is true to its stated lumen output. This is true of the temperature of the light as well.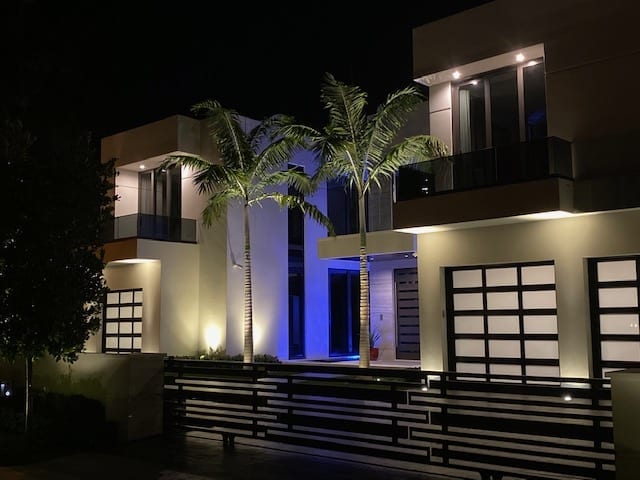 Light Temperature
A quality landscape lighting fixture that delivers its stated level of warmth is important. A contemporary home with sharp, clean lines and brighter surfaces will typically go better with a cool light. Mediterranean architecture, with its warm, earthy tones will benefit from a warmer light. For these landscape lighting fixtures to deliver proper lumen output and warmth; the internal circuitry and quality of the LED bulb must be made from the best materials available and must be quality tested.
Fixture Casing
The overall engineering of the fixture is important and of equal importance is the casing, and particularly the knuckle of the fixture. The knuckle is the point on the fixture where the stem pivots for adjustment and aiming. How this connection point is designed will make a significant difference in the durability of the fixture. This can also be a point of stress for the internal wiring of the fixture if not built well and installed properly.
Illumination FL meets regularly with various producers of landscape lighting fixtures to make sure we are bringing you the best landscape lighting systems. We test new products and inspect them thoroughly to make sure that we can stand by what we deliver to you.
Systemic Integrity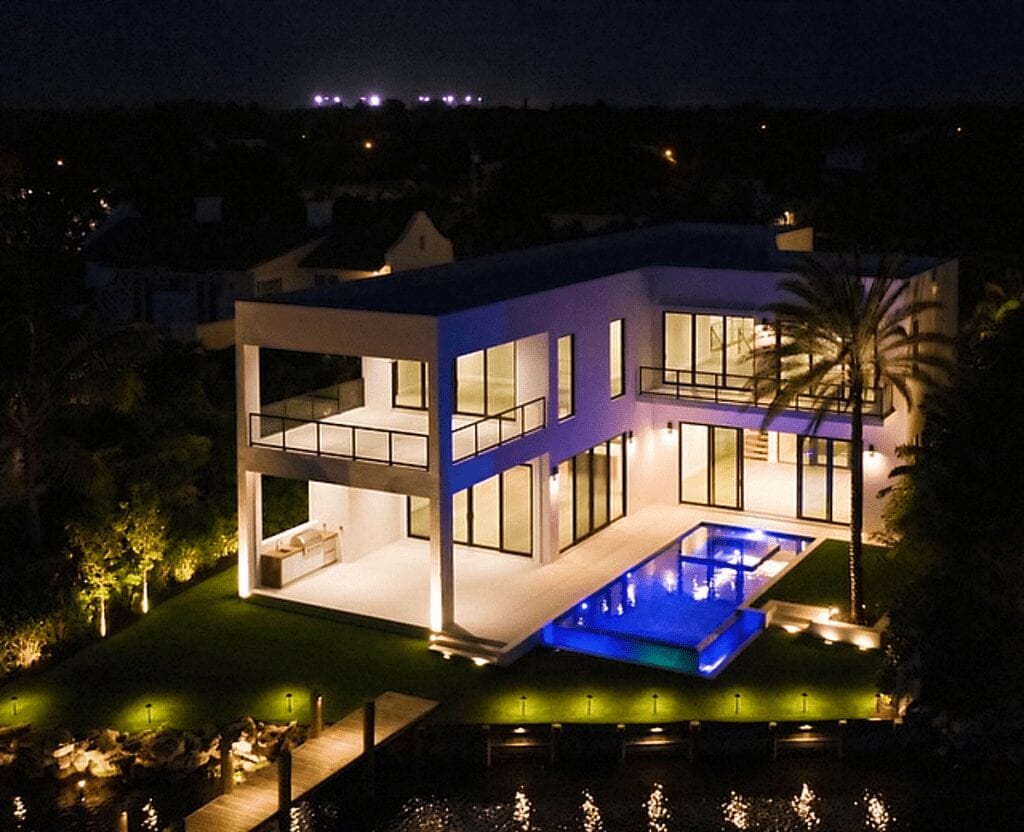 The quality of an Illumination FL Landscape Lighting System has a lot to do with the overall system integrity. There are three key factors that our professional installation teams focus on ensuring long term system integrity. The power source with its conversion technology, the network of power supply wires and connection points.
Conversion Technology
The power source for an Illumination FL Designer Landscape Lighting System is typically going to be an external high voltage outlet. The system integrity can be improved by ensuring that the connection is secure and protected from the elements. The conversion from high voltage to low voltage requires a transformer at this point. Illumination FL utilizes transformers with industry-leading warranties, we will talk about that a little further on though. Internal connections from the transformer to the delivery network play an important role as does the type of control module that is used.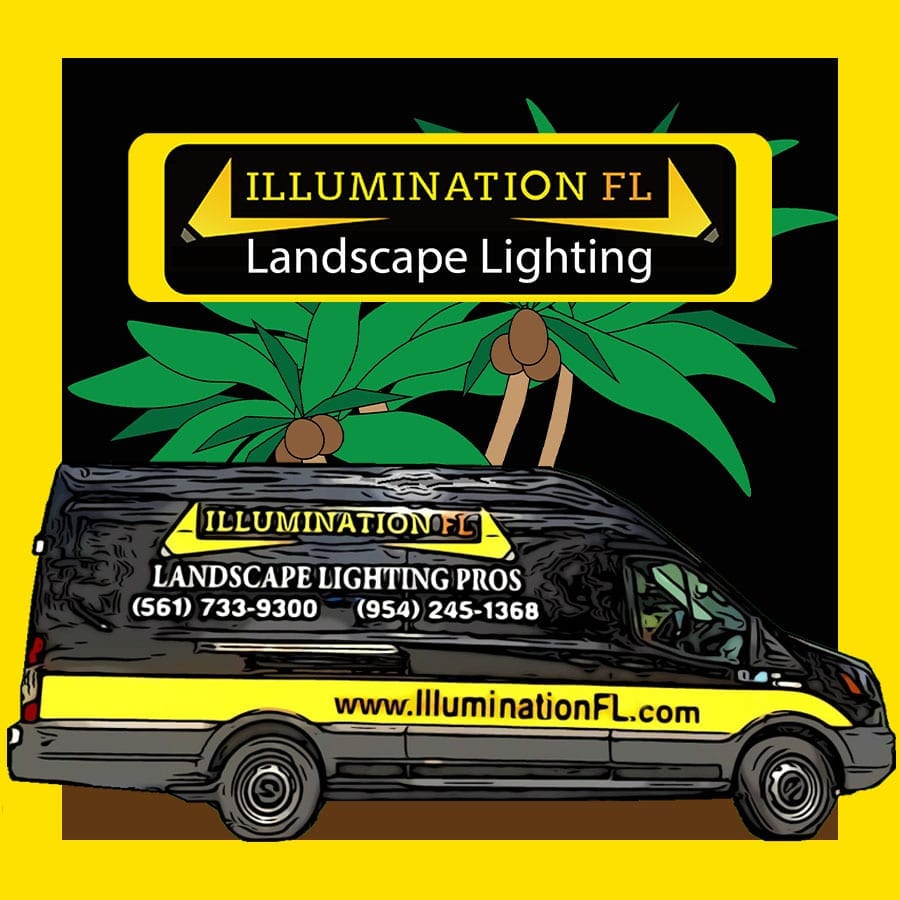 Power Supply Network
The network of power supply wires that deliver the required energy to the fixtures throughout the system contribute to the longevity and durability of the system. We utilize high quality, direct burial cable in most situations. When we determine points of potential breakage due to higher traffic, landscaping transitions, or any other reason, we use protective sleeves (conduit). The other factor that comes into play is the depth that the wires are buried at. Illumination FL considers possible erosion and other factors to minimize any exposed cable which could compromise the integrity of the system. Finally, we look at connection points.
Connection Points
Illumination FL has used various methods of securing splices and other connection points in the power supply network. Some of the various methods include proprietary connectors specially designed by landscape lighting component manufacturers, heat-shrink connectors, and waterproof wire-nut connectors. We choose the connection method that is best for each application to ensure long-term system integrity. Our team of professional installers is highly trained in an apprenticeship program to bring you award-winning systems. We recommend you look at our customer reviews to hear what other customers are saying about Illumination FL.
Landscape Lighting Warranties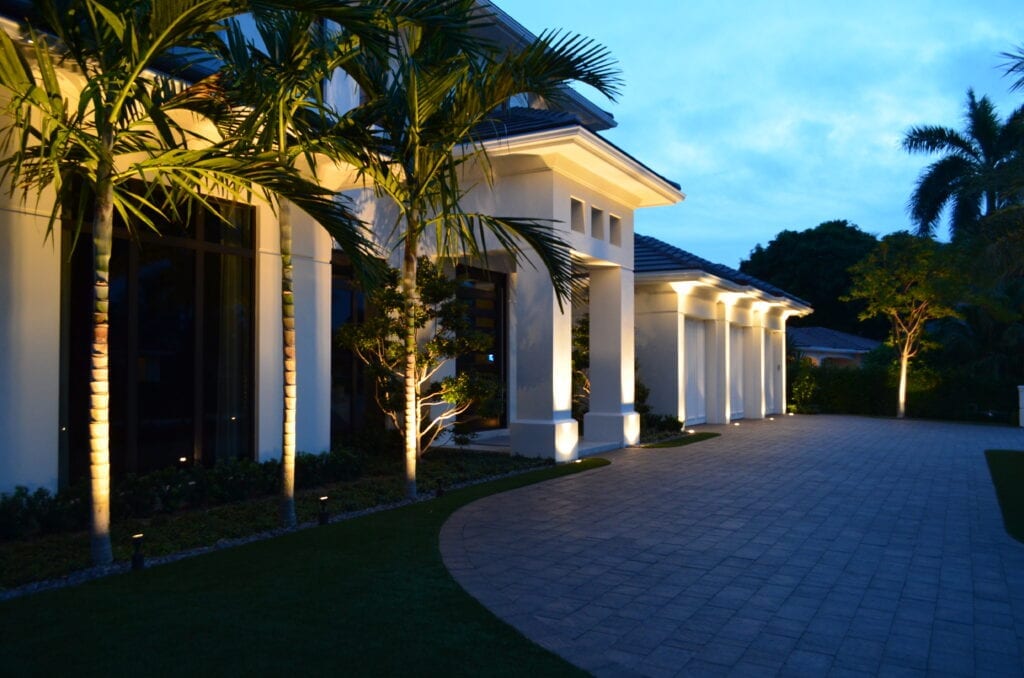 By choosing manufacturing partners that offer high-quality components, you receive landscape lighting warranties that lead the industry. These manufacturer warranties outperform the competition because the manufacturer knows their products are well built. You see, they stand by their products so that we can stand by ours. Each Illumination FL Designer Landscape Lighting System is custom designed. If you have questions regarding specific warranty details, you should speak with your Illumination FL Design Rep directly. They will be able to review your system's components with you so that you are a well-informed consumer. All of this will lead to an LED Landscape Lighting System that you will be happy with.
Low Maintenance Landscape Lighting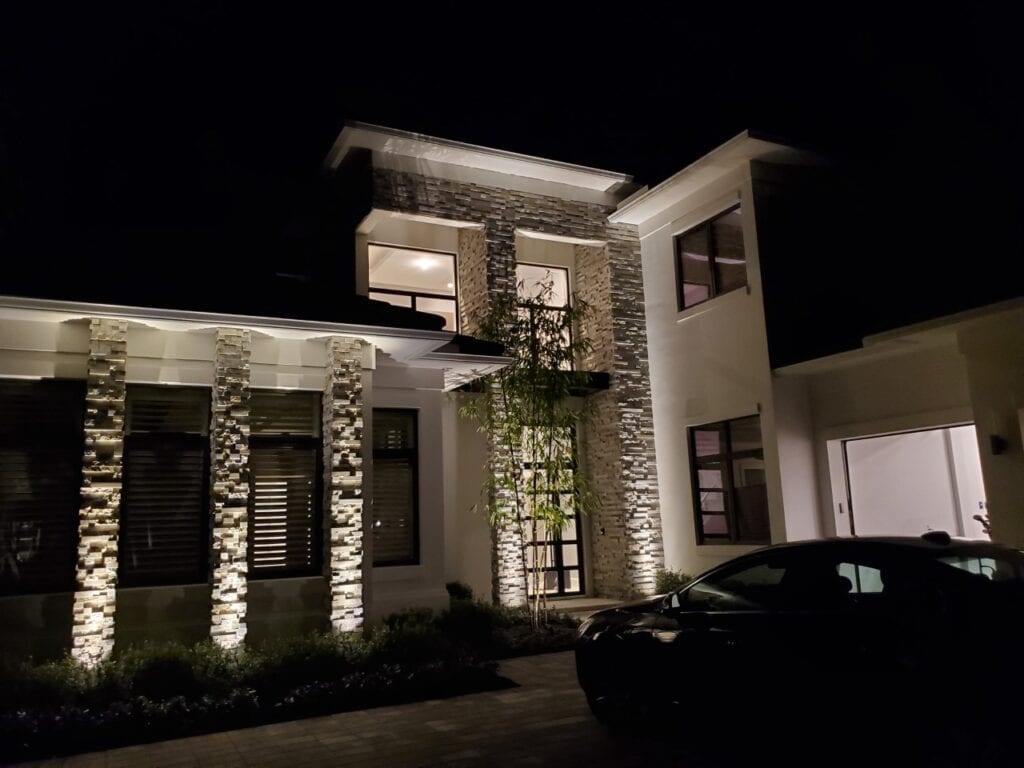 A low maintenance landscape lighting system is both eco-friendly and convenient. Once our professional installation team leaves your property, you will have a designer landscape lighting system that provides dramatic visual beauty, increased usability of your property, and a higher level of safety and security. The system integrity we are known for translates to fewer service calls. That means less money flowing out of your pocket. Also, with one of our comprehensive maintenance packages you can extend the life of your Illumination FL Designer Landscape Lighting System. Being proactive with system maintenance will ensure you get the highest value from your investment. These packages are scalable to help fit your budget and minimize any system downtime or other inconveniences.
Give us a call today and let us schedule a time to meet with you on-site and draw up a custom lighting plan for your home. There is no obligation and we will provide a free estimate.
561-733-9300
954-245-1368
Text
561-704-0336